Following the season finale of Doctor Who on Saturday, BBC America released a promotional image on Twitter for the 50th anniversary special episode, set to air Nov. 23.
Friday, May 17, 2013 3:00 pm
The message behind most romantic comedies is the simple-minded sentiment that love is all you need. So when Danish filmmaker Susanne Bier takes that title for a departure from somber drama to romance, you might expect her to deliver it with some serious irony.

Former Mesa Mayor Wayne Brown is credited with helping lay groundwork with residents for the future development of the Mesa Arts Center (background). [Background image courtesy Mesa Arts Center]
Friday, May 17, 2013 12:01 am
"Star Trek Into Darkness" is like fan-boy fiction on a $185 million budget. It's reverential, it's faithful, it's steeped in "Trek" mythology.

This undated publicity film image released by Paramount Pictures shows Chris Pine as Kirk, Zoe Saldana as Uhura and Zachary Quinto as Spock in a scene from the movie, "Star Trek Into Darkness," from Paramount Pictures and Skydance Productions.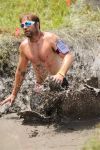 This Saturday, April 27, 2013 photo provided by Nuvision Action Image LLC shows a contestant in The Mud Monster competing during The Survival Race in Dallas. (AP Photo/Nuvision Action Image LLC)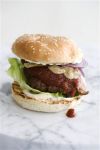 This image taken on April 22, 2013, shows a club house burger with a buttered bun in Concord, N.H. (AP Photo/Matthew Mead)

This image taken on April 22, 2013, shows a club house burger with a buttered bun in Concord, N.H. (AP Photo/Matthew Mead)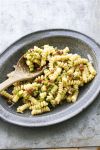 This image taken on April 29, 2013, shows carbonara pasta salad in a serving dish in Concord, N.H. (AP Photo/Matthew Mead)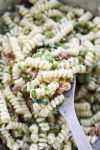 This image taken on April 29, 2013, shows carbonara pasta salad in a serving dish in Concord, N.H. (AP Photo/Matthew Mead)

This image taken on April 29, 2013, shows carbonara pasta salad in a bowl in Concord, N.H. (AP Photo/Matthew Mead)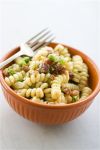 This image taken on April 29, 2013, shows carbonara pasta salad in a bowl in Concord, N.H. (AP Photo/Matthew Mead)

This image taken on April 22, 2013, shows lemon-garlic lamb kebabs with bell pepper couscous in a serving dish in Concord, N.H. (AP Photo/Matthew Mead)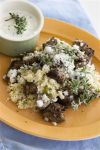 This image taken on April 22, 2013, shows lemon-garlic lamb kebabs with bell pepper couscous served on a plate in Concord, N.H. (AP Photo/Matthew Mead)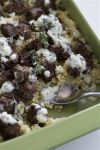 This image taken on April 22, 2013, shows lemon-garlic lamb kebabs with bell pepper couscous in a serving dish in Concord, N.H. (AP Photo/Matthew Mead)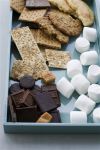 In this image taken on April 29, 2013, ingredients for making toasted mocha s'more, salted oatmeal s'more, sesame caramel s'more, and double chocolate grasshopper s'more are shown on a tray in Concord, N.H. (AP Photo/Matthew Mead)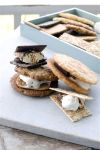 In this image taken on April 29, 2013, clockwise from top left, double chocolate grasshopper s'more, toasted mocha s'more, sesame caramel s'more and salted oatmeal s'more are shown in Concord, N.H. (AP Photo/Matthew Mead)

In this image taken on April 29, 2013, clockwise from top left, double chocolate grasshopper s'more, toasted mocha s'more, sesame caramel s'more and salted oatmeal s'more are shown in Concord, N.H. (AP Photo/Matthew Mead)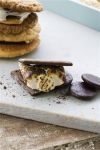 In this image taken on April 29, 2013, front, a double chocolate grasshopper s'more, top left, a salted oatmeal s'more, and a toasted mocha s'more are shown in Concord, N.H. (AP Photo/Matthew Mead)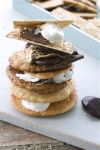 In this image taken on April 29, 2013, from top to bottom, sesame caramel s'more, double chocolate grasshopper s'more, salted oatmeal s'more and toasted mocha s'more are shown in Concord, N.H. (AP Photo/Matthew Mead)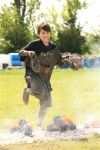 This Saturday, April 27, 2013 photo provided by Nuvision Action Image LLC shows a contestant in the Fire Jump competing during The Survival Race in Dallas. (AP Photo/Nuvision Action Image LLC)

In this image taken on April 29, 2013, ingredients for making toasted mocha s'more, salted oatmeal s'more, sesame caramel s'more, and double chocolate grasshopper s'more are shown on a tray in Concord, N.H. (AP Photo/Matthew Mead)

This image taken on April 22, 2013, shows club house burgers with buttered buns in Concord, N.H. (AP Photo/Matthew Mead)

This Saturday, April 27, 2013 photo provided by Nuvision Action Image LLC shows a contestant in The Mud Monster competing during The Survival Race in Dallas. (AP Photo/Nuvision Action Image LLC, J. Dennis Thomas)

This image taken on April 29, 2013, shows carbonara pasta salad in a serving dish in Concord, N.H. (AP Photo/Matthew Mead)