Wednesday, April 3, 2013 6:00 am

You could pick up some pretty good art for a decent price this weekend.

"The Power of Music," a self-portrait by Nathan Begay (Navajo) was the 2012 Best of Show winner in The Heard Museum Guild American Indian Student Art Show & Sale. This year's event is April 6-8, 2013.
Monday, March 11, 2013 2:00 pm
Spring break is here and that means a much-needed break for teachers, students and parents. However, just because students get a break from the classroom doesn't mean our kids should stop learning. In fact, spring break offers the opportunity for parents to explore creative and fun ways to keep their kids engaged in learning activities -- activities that challenge them and help them develop critical-thinking and other skills that will help them succeed in college, career and life.
Sunday, February 17, 2013 10:30 am
When Bill Keller landed a store manager's job with Dillard's department store in the Valley 34 years ago, his wife, Dianne, said she wasn't excited about moving to Arizona, much less Mesa — from Minneapolis.
Thursday, January 24, 2013 1:46 pm
We've all heard of the Hohokam, the agricultural society that lived in the Salt River area from approximately 450 AD to 1450 AD and supported their extensive crop system with miles of hand-built canals.
Friday, December 28, 2012 3:30 pm
Christmas may be over, but Holidays at the Heard are still going strong.
Tuesday, December 25, 2012 8:59 am
The strategy for dealing with a young crime victim at the Maricopa County Attorney's Office is kindness combined with a large dose of Sam.
Friday, December 14, 2012 2:00 pm
When you think of Native American art, pottery and textiles may come to mind. You may not be so quick to picture art made on the lined sheets of ledger paper.
Friday, December 7, 2012 3:43 pm
When musician Alice Cooper kicks off his signature charity fundraiser event "Christmas Pudding" at Comerica Theater with actor Johnny Depp and a host of other entertainers in Phoenix this weekend, a group of East Valley rockers will be taking the stage — and perform as the opening band.
Sunday, December 2, 2012 11:15 am
A total of 32 Phoenix nonprofit arts and culture organizations received $525,346 in grant funding in the 2012-13 fiscal year from the Phoenix Office of Arts and Culture.
Monday, November 12, 2012 12:49 pm
When it comes to finding distinctive gifts, I've long been a fan of gift shops inside arts and culture venues, such as Scottsdale Museum of Contemporary Art, Desert Botanical Garden and Heard Museum.
Saturday, November 10, 2012 6:15 am
When it comes to finding distinctive gifts, I've long been a fan of gift shops inside arts and culture venues, such as Scottsdale Museum of Contemporary Art, Desert Botanical Garden and Heard Museum.
Sunday, November 4, 2012 8:45 am
A step into any classroom at Cambridge Academy in East Mesa this week will transport visitors across the time spectrum.
Sunday, October 28, 2012 3:45 pm
Growing up, they had been told not to speak their language, but as young soldiers in a country at war, men like Charles Chibitty and Teddy Draper, Sr., found their words were their mightiest weapons.
Monday, October 15, 2012 12:49 pm
Mesa's Buckhorn Mineral Baths.
Sunday, October 14, 2012 2:19 pm
Arizona Opera, currently in its 42nd season, is galvanizing its future as a world-renowned opera company through its $8.5 million "Raising Our Voice" capital campaign. Arizona Opera has always been an integral element in Arizona's arts community, and now, the company is embarking on a watershed and transformational next step with a new Opera Center. Centrally located in the heart of the Phoenix Arts District, and easily accessible by light rail, the center will anchor the cultural gateway, along with the neighboring Phoenix Art Museum, Heard Museum and Phoenix Theatre.
Sunday, October 7, 2012 7:41 am
Mesa's Buckhorn Mineral Baths. Did Elvis Presley sleep there? And does his ghost haunt the premises of the 15-acre roadside landmark at the northeast corner of East Main Street and Recker Road?
Monday, October 1, 2012 12:00 am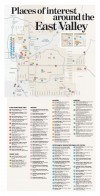 Monday, September 24, 2012 12:00 pm
Perhaps we'll stroll amid massive boulders etched with ancient symbols, stopping for a picnic lunch. Or maybe we'll take the kids via light rail to craft a Yavapai burden basket inside a cool downtown gallery. Whatever we pick, you can be sure we'll take advantage of Museum Day Live on Sept. 29, when admission to museums across the country is free.
Monday, September 24, 2012 6:00 am
A good man is hard to find, but so is a good guide. Consequently, the Heard Museum is recruiting community members for their "Las Guias" guild — a group of volunteer museum guides passionate about Indian art, history and culture in the Southwest.
Friday, September 21, 2012 8:12 am
It's a story that's sad, but true and one of what might have been in the music world of the 1950s: It's the story of the late great Johnny Ace.
Sunday, September 16, 2012 1:11 pm
CAMDEN, Maine — When Peg Davis was ready to find a retirement community to move to, she looked north — not south — for a place to spend her later years.
Monday, September 10, 2012 10:45 am
HONOLULU  — Coconut bras aren't Hawaiian. Neither are grass skirts. Tiki bars? They're from California. Yet they're all among the most recognizable symbols of a Hawaiian vacation.
Friday, August 24, 2012 9:36 am
I started loving the Queen Creek area years before I actually lived here. I heard stories about the wonderful times people would have when they would visit Schnepf Farms to pick organic peaches or visit the U Pick Garden, and the beauty of sweeping, desert vistas available only from trails in San Tan Mountain Regional Park.
Wednesday, August 15, 2012 4:45 pm
With dust and heat still hanging on here in the Valley, we're always on the lookout for indoor things we can do to pass the time. So we're excited about this money-saving deal just announced by Heard Museum: through Sept. 30, the museum is offering 2-for-1 admission for up to four guests at its flagship location in downtown Phoenix.