FILE - In this Aug. 1, 2012 photo, a sign outside Taylor's Accents Gifts shop recognizes Aly Raisman, captain of the U.S. women's gymnastics team, in her hometown of Needham, Mass. Raisman won a gold medal in the individual floor exercise and a bronze medal for her individual balance beam routine in London on Tuesday, Aug 7, 2012, to go with her team gold medal won last week. (AP Photo/Stephan Savoia, File)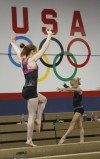 Leah Perrino,14,left, and Becca Beasley,11, work on the balance beam inside Gold Medal Gymnastics, Thursday, August 9, 2012 in Chandler. [Tim Hacker/Tribune]

Students enrolled in the Gold Medal Gymnastics program work on balance beams and floor exercise, Thursday, August 9, 2012 in Chandler. [Tim Hacker/Tribune]

Becca Beasley,11, right, works on the balance beam inside Gold Medal Gymnastics, Thursday, August 9, 2012 in Chandler. [Tim Hacker/Tribune]

Zoey Waxman,10, works on the balance beam inside Gold Medal Gymnastics, Thursday, August 9, 2012 in Chandler. [Tim Hacker/Tribune]

Jordyn Wieber pushes off the vault during the final round of the women's Olympic gymnastics trials, Sunday, July 1, 2012, in San Jose, Calif. Wieber was named to the U.S. Olympic gymnastics team. (AP Photo/Gregory Bull)
Wednesday, April 25, 2012 9:01 am
Higley High School freshman MyKayla Skinner, 15, recently competed as part of the gold-medal winning U.S. Women's Gymnastics Team in her first international competition in Jesolo, Italy. The 2012 City of Jesolo Trophy competition was held late last month.
Saturday, February 13, 2010 8:20 pm
Mary Atkinson and Stephanie Hangartner went first and second in the all-around to lead the Arizona State women's gymnastics team to a win over Washington Saturday in Seattle.
Tuesday, January 22, 2008 10:00 pm
Nicole Harris of Arizona State has been named Pac-10 Conference gymnast of the week for Jan. 15-21.
Saturday, March 25, 2006 6:12 am
Arizona State's gymnastics team is headed in the right direction.

U.S. gymnast Gabrielle Douglas performs on the balance beam during the artistic gymnastics women's apparatus finals at the 2012 Summer Olympics, Tuesday, Aug. 7, 2012, in London. (AP Photo/Gregory Bull)

A tattoo of the Olympic Rings and the letters USA are partly visible as U.S. gymnast Jonathan Horton stretches his muscles during the artistic gymnastics men's apparatus finals at the 2012 Summer Olympics, Tuesday, Aug. 7, 2012, in London. (AP Photo/Julie Jacobson)

U.S. gymnast Alexandra Raisman hugs coach Mihai Brestyan after she won the gold medal for the floor during the artistic gymnastics women's apparatus finals at the 2012 Summer Olympics, Tuesday, Aug. 7, 2012, in London. (AP Photo/Julie Jacobson)

U.S. gymnast Alexandra Raisman and coach Mihai Brestyan acknowledge the crowd after winning the gold medal for the floor during the artistic gymnastics women's apparatus finals at the 2012 Summer Olympics, Tuesday, Aug. 7, 2012, in London. (AP Photo/Gregory Bull)

U.S. gold medallist gymnast Alexandra Raisman, center, Romania's silver medallist Catalina Ponor, left, and bronze medallist Russia's Aliya Mustafina display their medals during the podium ceremony of the artistic gymnastics women's floor exercise final at the 2012 Summer Olympics, Tuesday Aug. 7, 2012, in London. (AP Photo/Julie Jacobson)

U.S. gold medallist gymnast Alexandra Raisman, center, Romania's silver medallist Catalina Ponor, left, and bronze medallist Russia's Aliya Mustafina display their medals during the podium ceremony for the artistic gymnastics women's floor exercise final at the 2012 Summer Olympics, Tuesday Aug. 7, 2012, in London. (AP Photo/Gregory Bull)

U.S. gymnast Jordyn Wieber looks at the scoreboard after performing during the artistic gymnastics women's floor exercise final at the 2012 Summer Olympics, Tuesday Aug. 7, 2012, in London. (AP Photo/Gregory Bull)

U.S. gymnast Jonathan Horton performs on the horizontal bar during the artistic gymnastics men's apparatus finals at the 2012 Summer Olympics, Tuesday, Aug. 7, 2012, in London. (AP Photo/Julie Jacobson)

U.S. gymnast Gabrielle Douglas takes instructions from coach Liang Chow before her performance on the beam during the artistic gymnastics women's apparatus finals at the 2012 Summer Olympics, Tuesday, Aug. 7, 2012, in London. (AP Photo/Julie Jacobson)