Gloria Estefan holds the award for best traditional tropical album backstage at the 9th annual Latin Grammy Awards on Thursday, Nov. 13, 2008 in Houston. (AP Photo/David J. Phillip)
Sunday, February 13, 2005 7:31 am
Monday, February 14, 2011 9:56 am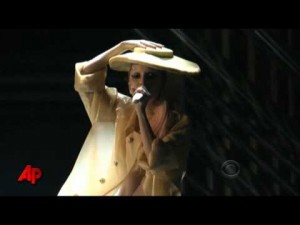 Arcade Fire wins best album of the year at Grammys, beating out Eminem, Lady Gaga, Katy Perry. But it was the performances that ruled the night. (Feb. 14)
Monday, December 18, 2006 9:44 am
SANTA MONICA, Calif. - Justin Timberlake may have said "Bye, Bye, Bye" to his 'N Sync bandmates, but he's looking for a partner to sing with at the Grammys. The Recording Academy, together with CBS Corp. and Yahoo Inc., is holding a contest to find an unsigned artist to perform with the 25-year-old "SexyBack" singer at the 49th Annual Grammy Awards, to air live on CBS from the Staples Center in Los Angeles on Feb. 11.
Sunday, February 11, 2007 7:17 am
A lot of great music was released in the fourth quarter of 2006. But as usual, none of it is being considered for tonight's Grammy Awards. As a comprehensive overview of the year that was in music, the Grammys always were a little slow to recognize the best music at the height of its relevance.
Tuesday, January 30, 2007 9:17 am
NEW YORK - The Police will reunite to perform at this year's Grammys ceremony, the Recording Academy announced Tuesday.

Justin Timberlake performs during the opening of the 2006 MTV Video Music Awards in New York, on Aug. 31, 2006.

The Police, featuring Stewart Copeland, left, and Sting and Andy Summers, right, are shown in an unknown location in 1980.
Thursday, February 2, 2006 12:54 pm
NEW YORK - The Grammy Awards will open with a meeting of the Material Girl and the virtual world. Madonna and the Gorillaz will perform together for the first time at the 48th Annual Grammy Awards, which will be presented Wednesday at the Staples Center in Los Angeles.
Wednesday, February 8, 2006 5:47 am
Facing steadily declining ratings, the Grammys — formerly the top dog of music awards shows — is on the verge of becoming an also-ran in the ever-growing glut of awards ceremonies.

Mariah Carey has resurrected her musical career with her album "The Emancipation of Mimi." She's up for eight Grammy awards on tonight's broadcast.
Wednesday, November 2, 2005 5:33 pm
LOS ANGELES - When presenters crack jokes and artists make acceptance speeches during Thursday's 6th Annual Latin Grammy Awards, they'll be doing something natural for them but novel for the show - speaking in Spanish.
Thursday, December 4, 2003 8:44 am
BEVERLY HILLS, Calif. - Rapper 50 Cent, pop singers Justin Timberlake and Beyonce and the hip-hop group OutKast were favorites to grab Grammy Award nominations this year.

Beyonce Knowles
Sunday, February 23, 2003 11:00 am
The Grammys are the Rodney Dangerfield of award shows — they get no respect. While the Oscars are widely seen as honoring the art of film, commercially successful or not, the Grammys usually are a reflection of album sales.
Sunday, February 23, 2003 9:29 am
The Grammys, music's biggest annual showcase, return to the Big Apple Sunday night after a four-year absence.
Tuesday, February 26, 2013 5:45 pm
The conception that no one knows or appreciates an artist until he's gone doesn't hold water with Peter Max.
Monday, February 13, 2012 9:10 am
The splintered music world truly coalesces only one night of 365 for the Grammy Awards, and this year was united in the triumph of recovered British soul singer Adele's trophy haul and the tragedy of Whitney Houston's death.
Monday, January 23, 2012 2:30 pm
NEW YORK (AP) — Since its beginnings in the 1970s, rap music has transformed from an underground, street-based sound to a definitive part of pop culture, transcending race and becoming one of the strongest — and most prolific — voices of today's generation. But at the Grammy Awards, rap has had a long-lasting losing streak in the top categories.
Saturday, February 12, 2011 12:45 am
NEW YORK (AP) - The Grammy Awards are in danger of turning into Eminem's own personal "Groundhog Day."
Saturday, March 20, 2010 4:03 pm
Daughter of country music icon Johnny Cash and Grammy Award winner for her own work in the country genre, Rosanne Cash is also an established singer-songwriter in the indie-rock world.