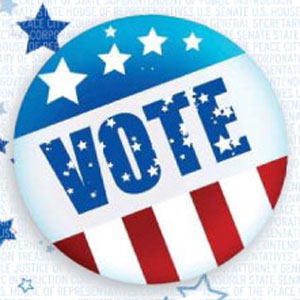 Your guide to the issues facing East Valley voters on Nov. 2
Friday, March 10, 2006 12:24 pm
These stories were previously published in the Tribune
Monday, November 1, 2010 6:59 pm
Sunday, October 24, 2010 7:30 am
After many weeks of interviewing candidates, pouring over bios and examining track records, the East Valley Tribune Editorial Board has come up with its recommendations for the 2010 Election.
Tuesday, August 3, 2010 11:04 am
The Arizona Secretary of State's office is in need of 4,000 more poll workers to help man 2,200 polling places for the Aug. 24 primary.
Thursday, October 11, 2012 9:32 am
Early voting in Arizona's Nov. 6 general election starts Thursday.
Monday, August 30, 2010 3:30 am
It didn't take long for the dust to settle from Tuesday's primary before several candidates declared "It's on" for November's general election.
Thursday, March 16, 2006 4:16 am
A Maricopa County grand jury indicted William Craig Miller on five counts of first-degree murder, plus burglary and evidence tampering in the Barrington Estates quintuple slayings last month in Mesa.
Sunday, July 11, 2004 8:34 am
Sam Coppersmith thinks he got us. (See his column on the following page.) Good try, Sam, but you should have done your homework, like reading the fine print of the Clean Elections Act.
Wednesday, April 18, 2007 1:14 pm
The Arizona Treasurer has called for an independent investigation to decide if $1.1 million in payments to the attorney general's office last year was legal.
Wednesday, December 26, 2007 10:24 pm
Scottsdale council members praised the clarity brought by the Arizona attorney general's legal opinion that leaves no doubt that they can speak with the media or their constituents about an upcoming vote.

Republican Andrew Thomas, speaking to Republican partisans Tuesday night, promises if elected he will fight the Obama administration on everything from defending the state's new immigration law to overturning "Obamacare.''
Wednesday, September 9, 2009 9:56 am
Maricopa County Attorney Andrew Thomas announced Wednesday he is forming an exploratory committee to consider a run for Arizona attorney general in the 2010 election.
Friday, January 7, 2005 9:37 am
Wednesday, June 21, 2006 12:03 pm
Arizona voters want more Democrats in Congress in general, but not necessarily Democrat Jim Pederson in particular, according to a survey conducted by Arizona State University and KAET-TV.
Thursday, May 14, 2009 9:01 pm
Gilbert's General Plan 2011 will have its official kickoff at a meeting 8 a.m. to 10 a.m. Saturday in the council chambers at the Gilbert Municipal Center, 50 E. Civic Center Drive.
Friday, June 19, 2009 9:28 pm
It may be called a general plan, but Gilbert residents will need to get pretty specific about what should be in it before the document is put to a public vote in two years.

Gov. Jan Brewer and Attorney General Terry Goddard, the man she defeated in her election bid, formally certify the election results Monday, Nov, 29, 2010, as required by law. Not everything is complete, though: A recount is necessary on Proposition 112 because it failed by just 128 votes.
Friday, March 8, 2013 7:10 pm
Future recall elections would be conducted with both a primary and general election under the terms of legislation approved Thursday by the House.
Tuesday, March 10, 2009 10:06 pm
Joan Krueger led a crowded field of candidates vying for two open seats in Gilbert's Town Council election Tuesday night, according to unofficial results.
Sunday, October 29, 2006 6:26 am
The race for Arizona attorney general has turned into two separate campaigns.
Sunday, October 29, 2006 6:25 am
The race for Arizona attorney general has turned into two separate campaigns. One is waged in the traditional way of pressing palms, erecting campaign signs and trading barbs.
Tuesday, June 15, 2010 11:36 am
One of two Republicans running for state attorney general wants to let the governor choose pretty much whoever she wants to sit on the state's high court and courts of appeals.
Tuesday, October 13, 2009 10:47 pm
WASHINGTON — Rampant government corruption may derail the fight against the Taliban and al-Qaida in Afghanistan even if as many as 80,000 additional U.S. troops are sent to the war, the top military commander there has concluded, according to U.S. officials briefed on his recommendations.