Thursday, February 5, 2009 6:37 pm

 In May 2008, Tucson police estimated 60 percent of the illegal drugs that enter the United States come through Arizona, the Arizona Daily Star reported.
Sunday, July 27, 2008 6:09 pm
Derek Sprunk feels a special kinship when he paints black and white clown makeup into a wicked smile on his face.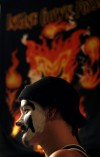 WHERE HE BELONGS: Derek Sprunk, 19, of Mesa says he is closer to his Juggalo family than his biological relatives. "When you wear makeup, that unifies everybody," he says.

UNDERGROUND OR UNDERWORLD? Jordan McCloe, 19, of Mesa is part of a group called the Juggalos, which consist of fans of the underground rap group Insane Clown Posse.
Wednesday, July 11, 2007 6:38 am
Chandler residents can learn more information about gangs during a Chandler police discussion Thursday, from 6 p.m. to 7:30 p.m. at the city's Sunset Branch library, 4930 W. Ray Road.
Thursday, April 12, 2007 6:59 am
The Mesa Unified School District Governing Board on Tuesday approved policy changes that would expand its gang policy to hold sway outside of school hallways, including around bus stops and while traveling to or from school.
Wednesday, February 7, 2007 4:47 am
A new memo about Chandler's recent troubles with gangs is punctuated with this stark statement: "It is unrealistic to believe that any city will ever be able to completely eliminate the gang problem."
Saturday, May 21, 2005 7:12 am
Saturday, May 21, 2005 7:12 am
Two gang-related fights in south Scottsdale earlier this week provoked a neighborhood response from police, social service workers and residents.
Thursday, July 10, 2003 10:43 am
The arrests of 18 Hells Angels members — including two from the East Valley — will likely have an immediate and dramatic effect on the organization, law enforcement officials said Wednesday.
Monday, December 5, 2011 12:04 pm
Mesa police are investigating a shooting that left a woman injured at an apartment complex near Pioneer Park on Friday as possibly begin gang-related.
Friday, February 18, 2011 1:21 pm
A man was hospitalized after what police say was a gang-related shooting Friday morning in Chandler.
Tuesday, April 13, 2010 3:22 pm
A documented gang member on probation for burglary was arrested by police after he ran from officers and was found hiding in a doghouse.
Tuesday, June 16, 2009 11:21 pm
An 18-year-old gang member was arrested Friday on suspicion of criminal damage after a witness saw him and two others writing graffiti at Sherwood Park, and comments he made about the offense on his MySpace page helped buttress the case, according to a police report.
Tuesday, February 3, 2009 5:13 pm
A man who is a proclaimed member of the "East Side Chandler" street gang, has been indicted on a murder charge related to the 2008 death of a 16-year-old Chandler boy.
Friday, October 24, 2008 11:23 pm
Mesa police arrested a gang member Thursday night who is suspected of threatening a Walgreens employee he believed was laughing at him.
Wednesday, June 4, 2008 11:33 pm
An angry, emotional group of teens and a community concerned for its safety expressed their fears Wednesday night at a Mesa police community meeting.

EMOTIONAL MEETING: A group of youths who belong to a gang called the Juggalos is visibly upset during a Mesa police community meeting Wednesday night at Powell Junior High School in response to a shooting early Sunday that left a young man dead and a teenage boy seriously injured. Residents of the neighborhood where the crime occurred also attended.
Tuesday, March 18, 2008 12:09 pm
Seven suspected gang members have been indicted by a state grand jury on a long list of charges including drug possession, assault, conspiracy to commit armed robbery and racketeering.
Wednesday, April 4, 2007 7:25 pm
Authorities have arrested a 19-year-old man accused of shooting another teen in the face and the back, court records say. The teen is still paralyzed.
Wednesday, April 4, 2007 7:51 pm
Authorities have arrested a 19-year-old man accused of shooting another teen in the face and the back, court records say. The teen is still paralyzed.

Jesus Trini Lopez Jr.
Thursday, January 25, 2007 9:53 pm
No neighborhood or even rural area is exempt from gangs, a coalition of law-enforcement agencies reported Thursday while pledging to renew efforts to clamp down on what they believe is becoming a more organized and diverse crime problem.