Thursday, May 23, 2013 7:01 am

Forget fears of sequestration. And never mind the hike in payroll taxes that shrunk paychecks.
The American Furniture Warehouse under construction at Power Road and the Loop 202 San Tan Freeway shown, Tuesday, May 21, 2013 in Gilbert. [Tim Hacker/ Tribune]

The American Furniture Warehouse under construction at Power Road and the Loop 202 San Tan Freeway shown, Tuesday, May 21, 2013 in Gilbert. [Tim Hacker/ Tribune]
The American Furniture Warehouse under construction at Power Road and the Loop 202 San Tan Freeway shown, Tuesday, May 21, 2013 in Gilbert. [Tim Hacker/ Tribune]
Saturday, May 18, 2013 5:00 pm
SHANGHAI — China's biggest city and financial hub is known for designer boutiques and fine dining. Yet wallet-draining Shanghai also offers activities that cost nothing, from walking on the riverfront Bund to sculpture parks and historic sites. Here are five of them.
Tuesday, May 14, 2013 6:00 am
Design magazines and home decorating catalogs tend to feature sprawling backyards with big wooden decks and room for everything from decorative fountains to artificial ponds.
Monday, May 13, 2013 12:53 pm
PHILADELPHIA — A Philadelphia abortion doctor was found guilty Monday of first-degree murder and could face execution in the deaths of three babies who authorities say were delivered alive and then killed with scissors at his grimy clinic, in a case that became a flashpoint in the nation's debate over abortion.
Monday, April 29, 2013 5:00 pm
Long a companion for artists, the color wheel can also be a handy tool for gardeners.
Saturday, April 27, 2013 5:30 pm
Perhaps to alleviate the dreariness of long northern winters, Scandinavian style tends toward folk-art florals, crisp checks, plaids and stripes, and wood furniture left natural or painted in colors that evoke the region's natural beauty.
Friday, April 26, 2013 4:02 pm
U.S. homebuilders broke the 1 million mark in March for the first time since June 2008. The gain signals continued strength for the housing recovery at the start of the spring buying season.

In this publicity product photo provided by Ikea (www.ikea.com) the Hemnes cabinet in red is a good example of simple Swedish furniture design rendered in an organic hue. (AP Photo/Ikea)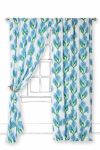 In this undated publicity photo provided by Anthropologie.com, the Speckled Blooms curtain has a repeat of hyacinth flowers, perfect for early spring. Pair it with a couple of painted furniture pieces and a rag rug for a fresh Scandinavian look. (AP Photo/Anthropologie.com)
Wednesday, April 24, 2013 9:00 am
I recently moved to a home with acreage, but quickly realized that even large lots have small or quirky outdoor spaces that must be designed carefully and thoughtfully.
Thursday, April 18, 2013 3:15 pm
Miles of stucco-coated strip malls and houses topped with red tiles roofs got you feeling a little ... homogenized? The Modern Phoenix Expo might be the cure for what ails you.
Thursday, April 11, 2013 7:30 am
While visiting a second-grade classroom in Chandler some seven years ago, Barbara Blalock witnessed a 7-year-old girl hand in her right tennis shoe as collateral. She was borrowing a pencil from her teacher.
Tuesday, April 9, 2013 6:00 am
Warm weather and the first buds of spring have been slow to arrive in much of the country. But even if your garden has yet to grow, you can add beauty, fragrance and a sense of springtime to your home by decorating with lush plants and potted trees.
Monday, April 8, 2013 6:00 am
It may be a "tale as old as time," but "Disney's Beauty and the Beast" will never feel old hat to generations of new children or eternal fans of romance and fairytales.
Friday, April 5, 2013 3:00 pm
Critics have dubbed Dwight Yoakam a music sponge for transcending the country genre and absorbing different musical styles, making his brand of hip, honky-tonk music accepted among rock audiences. His latest album -- his first original recording in seven years -- is a testament to that.
Thursday, April 4, 2013 5:00 am
NEW YORK — With the housing recovery gaining steam, Americans have more incentives to paint up, touch up and otherwise redecorate their homes. But there's no need to spend willy-nilly.
Wednesday, March 27, 2013 11:15 am
Home-decorating television shows and shelter magazines have many Americans dreaming about inviting an expert interior designer into their homes.
Friday, March 15, 2013 5:00 pm
Intrigued by the drama and inspired by the sophistication of British aristocrats in "Downton Abbey," some fans are plotting to bring the series' style into their own homes, from gilded finishes to opulent upholstery to portrait paintings.
Tuesday, March 12, 2013 6:00 am
When Renee Pedro bought a house with mid-century décor, she decided to embrace the look.
Saturday, March 9, 2013 6:00 am
Many Americans have embraced outdoor decorating, filling their yards with fluffy sofas, gleaming end tables and even outdoor rugs.

This publicity photo provided by Brian Patrick Flynn shows furniture of this outdoor living room designed by Brian Patrick Flynn for Hayneedle.com that is arranged around an outdoor chandelier. Flynn often uses outdoor chandeliers in covered outdoor spaces to give exterior spaces the look and feel of a homey, indoor room. (AP Photo/Brian Patrick Flynn, Daniel J. Collopy)