Sid Fuller, chief of police, Farmers Branch, Texas

Chandler police Detective Gary Fuller
Friday, September 3, 2010 12:30 am
Pat Tillman was many things to many people: a son, brother, husband, friend and, as a player for Arizona State University and the Arizona Cardinals, a football star who drew cheers for his exciting, physical style.
Monday, August 31, 2009 6:57 pm
Have a sandwich, Twiggy. In fact, go ahead and down a 6-foot sub. With cheese. Fat is suddenly fabulous, at least on TV, a realm once thought to be the exclusive playground for stick figures.

Brooke Elliott stars in Lifetime's new series "Drop Dead Diva."
Monday, January 21, 2008 11:01 pm
Mesa High boys basketball coach Shane Burcar would have been as interested as the average fan to watch his forward, Aaron Fuller, do battle against Phoenix Pinnacle standout forward Taylor Rohde Monday afternoon.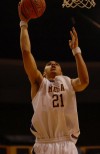 MAKING IT COUNT: Mesa High's Aaron Fuller scores two of his 28 points Monday against Pinnacle during a game in the MLK Classic at Wells Fargo Arena.

Mesa High School gets pumped up before their game against Pinnacle High School during the MLK Classic at the Wells Fargo Arena in Tempe.
Saturday, September 8, 2007 5:14 am
Despite hikes in fares and even bigger hikes in the number of complaints about service, people are buying more tickets on US Airways.
Wednesday, March 21, 2007 4:53 am
Gilbert's Devin Fuller picked the right night to throw his best stuff. The Tigers senior struck out 11 batters, allowed four hits, and pitched a complete game.

BACK IN TIME: Brophy's Josh Garcia, photo above, waits for the throw as Gilbert's Brandon Hamel slides back into first base during play at Gilbert High School on Tuesday.
Tuesday, March 4, 2008 9:27 am
Mesa High's Aaron Fuller gave a verbal commitment to the University of Iowa, Jackrabbits basketball coach Shane Burcar said on Tuesday.
Wednesday, February 20, 2008 11:55 pm
Chandler Basha prepared for Mesa's Aaron Fuller right up to the opening tip, but the Jackrabbits had to go without his 25 points per game and lost to the Bears 50-38 in the first round of the 5A-I boys state basketball tournament Wednesday at Mesa High.
Friday, February 1, 2008 4:58 am
The Mesa High senior forward averaged 27 points a game in helping the Jackrabbits post wins over Phoenix Pinnacle, Mesa Dobson and Yuma High last week. Fuller is averaging 24 points and 11 rebounds per game. Mesa leads the 5A East Valley Region race with one week to go.
Monday, February 26, 2007 4:35 am
Rod Fuller has done this before. Fuller outran Melanie Troxel by .054 seconds to capture a Top Fuel victory Sunday at Firebird International Raceway in the 23rd annual Checker Schuck's Kragen NHRA Nationals in front of a packed house.

SMOKIN': Top Fuel driver Rod Fuller performs a burnout during Sunday's eliminations at Firebird International Raceway in Chandler.
Tuesday, July 25, 2006 10:48 am
Democrat Glenn Fuller crashed into to another legal roadblock Monday in his effort to challenge Republican Jeff Flake in the 6th Congressional District in November.
Wednesday, January 23, 2013 2:27 pm
US Airways said net income doubled in the fourth quarter as its planes were fuller and it made more money off each passenger.
Sunday, March 16, 2008 12:32 am
Mesa High's Aaron Fuller had a wealth of motivation heading into the 2007-08 basketball season.

Tribune Boys basketball player of the year, Aaron Fuller.
Monday, February 18, 2008 9:09 pm
Did Mesa High's Aaron Fuller get a bigger piece of Mesa Mountain View's Brendon Lavender's elbow? Or did Lavender get more of Fuller's teeth?