Wednesday, January 30, 2008 12:16 pm

NEW YORK - Madonna is the richest woman in music. The 49-year-old entertainer leads Forbes.com's list of the top 20 "Cash Queens of Music," earning $72 million between June 2006 and June 2007.
Tuesday, October 30, 2007 2:30 pm
NEW YORK - Elvis Presley is still the King. Presley, who earned an estimated $49 million in the past 12 months, has reclaimed the No. 1 spot on Forbes.com's list of Top-Earning Dead Celebrities. He last topped the list in 2005.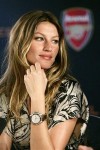 Brazilian supermodel Gisele Bundchen listens during a press conference in London, on , June 19, 2007.
Thursday, February 26, 2004 12:26 pm
NEW YORK - "Harry Potter" author J.K. Rowling and the founders of the Google search engine have landed on Forbes magazine's annual list of billionaires after a year when rallying stocks and a strong euro swelled the list to the longest it's ever been.
Thursday, February 27, 2003 10:27 pm
NEW YORK -- While many of the world's richest people saw their fortunes shrink again in the last year, Oprah Winfrey's grew enough to put her on Forbes magazine's list of billionaires - the first black woman to join the ranks.
Thursday, November 11, 2010 6:00 am
Forbes magazine has included Allegiant Travel Company on its list of "America's 100 Best Small Companies." The list, which appeared in the Nov. 8 issue of Forbes, recognizes businesses with remarkable sales and earnings growth. The airline caters to tourists on nonstop getaways to Sunbelt locales such as Arizona, Las Vegas, Los Angeles and Florida, and operates here out of Phoenix-Mesa Gateway Airport.
Tuesday, January 5, 2010 11:55 am
Former GOP presidential candidate Steve Forbes and U.S. Rep. John Shadegg of Arizona will discuss the federal health care overhaul being considered by Congress at a news conference Tuesday in Phoenix.

Left: U.S. Rep. John Shadegg, R-Ariz. Right: Former GOP presidential candidate Steve Forbes
Monday, December 7, 2009 5:55 pm
It may not achieve the same psychic level of bragging rights as the Arizona Wildcats slipping past the Arizona State Sun Devils in their annual football matchup. But Forbes.com thinks that the Tucson area provides, in its words, a better "bang for the buck" than the Valley of the Sun for anyone looking to settle in Arizona.
Wednesday, July 18, 2007 1:13 pm
NEW YORK - Gisele Bundchen tops Forbes.com's list of the world's richest models, earning $33 million in the last 12 months.
Friday, April 13, 2007 11:31 pm
NEW YORK - Divorce has its price - and no celeb, it appears, knows that better than Michael Jordan. The basketball superstar's split last December from his wife of 17 years, Juanita, is No. 1 on Forbes.com's list of "The 10 Most Expensive Celebrity Divorces."

Chicago Bulls\' Michael Jordan, right, reacts to a reporters\' question as his wife, Juanita, listens after he announced his retirement from basketball in this Jan. 13, 1999, file photo in Chicago.
Thursday, September 23, 2004 5:56 pm
NEW YORK - It looks like the U.S. billionaire's club isn't quite as exclusive as it once was. There are now 313 billionaires in the country, the largest number ever and a huge jump over the 262 counted last year, according to Forbes magazine, which Thursday released its annual ranking of the 400 richest Americans.
Wednesday, November 19, 2008 10:09 am
NEW YORK - Suri Cruise is the most popular kid on the playground.

In this Nov. 4, 2007 file photo, actress Katie Holmes joins her husband Tom Cruise as he holds their daughter Suri after Holmes finished the New York City Marathon in New York.
Wednesday, April 2, 2008 5:51 pm
Forbes.com recently ranked the country's riskiest real estate markets with the Valley coming in at No. 10.
Tuesday, April 26, 2005 6:37 am
Oil prices will slide to $30 or $35 a barrel within the next year, and a flat income tax will replace the 9 million-word tax code within the foreseeable future, Steve Forbes predicted Monday.