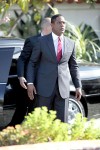 Blair Underwood stars in "The Event."
Saturday, March 24, 2007 4:59 am
Events of the Easter season are planned by area congregations. Holy Week begins with Palm Sunday on April 1 and culminates with Easter on April 8.
Saturday, December 9, 2006 3:01 am
MESA: A Messianic congregation, Yeshua HaMashiach (Jesus the Messiah), will have a Hanukkah service at noon today at Life's Destiny Church, 2601 E. Brown Road. For more information on the new congregation, call (480) 600-2777.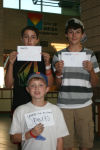 Youth share what keeps them "above the influence" and away from drugs and alcohol during last year's 4/20 event hosted by the Mesa Prevention Alliance. This year, the alliance is hosting its event at Mesa's Amazing Jakes.

This November 2012 photo provided by the New York Botanical Garden shows the annual holiday train show at the garden in the Bronx borough of New York, where model trains on view in the Enid A. Haupt Conservancy wind past 140 buildings depicting New York City, including landmarks like the original Yankee Stadium, St. Patrick's Cathedral and the Brooklyn Bridge. Holiday train shows also take place at a number of other botanic gardens around the country including those in Chicago and Cincinnati. (AP Photo/New York Botanical Garden, Ivo M. Vermeulen)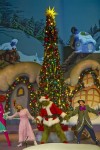 This Nov. 2012 photo provided by Universal Orlando Resort shows actors from the theme park's live holiday show, "Grinchmas Wholiday Spectacular," inspired by the classic story, "How the Grinch Stole Christmas." The theme park's holiday events also include a nightly parade of giant balloons from Macy's New York City holiday parade. (AP Photo/Universal)

This Nov.2011 photo provided by Busch Gardens Williamsburg shows the theme park's Christmas Town, which returns this year for a fourth season, with six million lights adorning nearly every building. The display includes 1,500 trees, 700 wreaths and 20,000 ornaments, plus shows, Santa's workshop and a 50-foot-tall animated tree dancing to synchronized music. (AP Photo/SeaWorld Parks & Entertainment)
Sunday, June 17, 2012 8:15 pm
Community events are valuable for Ahwatukee Foothills in simple economic terms as well as to help build community. These events bring residents together from Ahwatukee and from out of town to socialize (build community), spend money (economic development), and also help put Ahwatukee on the map (marketing).
Wednesday, March 7, 2012 8:00 am
The United States Tennis Association (USTA) is conducting a month-long drive, March Into Tennis, to get more kids playing the sport. Throughout the month, a record 1,200 USTA youth tennis events will take place across the country.
Friday, December 9, 2011 9:45 am
Each year, thousands of families go without basic necessities during the holidays.
Wednesday, November 9, 2011 12:28 am
The Gilbert Police Department, in partnership with Shred It, will offer a crime prevention event 4 p.m. to 6:30 p.m. Wednesday at the Super Target Store parking lot, 3931 S. Gilbert Road. This event will offer residents secure document shredding, drug disposal and vehicle VIN etching. 
Thursday, September 22, 2011 2:01 pm
Spiritude Restorative Therapies for Women hopes to raise awareness and funds for Breast Cancer Action during a fundraiser Oct. 1 at Mesa's Le Studio Salon de Beaute.
Thursday, September 8, 2011 1:25 pm
Thursday, September 8, 2011 1:25 pm
Thursday, August 18, 2011 6:00 pm
Foothills Family Chiropractic, 1241 E. Chandler Blvd., Suite 122, will host a community event on Saturday, Sept. 17 from 8:30 to 10 a.m. to celebrate chiropractic's birthday. This event will be open to the public and there will be a raffle to give away prizes along with free exams and X-rays.
Tuesday, August 9, 2011 2:00 pm
Valle Del Sol will host an IEPs and Ice Cream event 5-7 p.m. Aug. 18. The event will cover the purpose of the IEP - individualized education plan for kids with special needs; who should be a member of the IEP team and attend the meetings; how parents can prepare for and participate in the IEP process; and how to track a child's progress. IEPs are written agreements between a school, teachers and parents outlining services a student may receive. Parents can bring their children's IEPs for a reference.

The Parish of St. Benedict and its Environmental Stewardship Committee hosted a shredding and electronic recycling event for the entire community in partnership with Shred-it and Westech Recyclers on Sat., June 4.
Monday, June 13, 2011 3:30 pm
Arizona is counting down the months and days to its 100th birthday.