Chandler City Councilman Jeff Weninger enjoys a bite of the Southwesten Club at his Dilly's Deli resturant on the northeast corner of Queen Creek and Alma School Road. Nov. 12, 2009.
Wednesday, July 7, 2004 4:38 am
Vandalism was the apparent motive behind a pipe bomb that exploded in a north Scottsdale restaurant late Monday or early Tuesday, authorities said.
Wednesday, July 7, 2004 4:39 am
Monday, October 1, 2012 12:00 am
Chompie's (1160 E. University Drive, Tempe [480] 557-0700). Founded in 1979 by the Borenstein family, originally from Queens, N.Y., Chompie's serves up a huge menu of "breakfast all day," N.Y.-style pastrami and corned beef sandwiches, matzo ball soup, and baked-from-scratch breads, cakes and pastries. Don't miss the boiled-then-baked bagels in 35 varieties and the sliders, featured on an episode of "Man vs. Food." Additional location in Chandler (3481 W. Frye Road [480] 398-3008). $$
Wednesday, April 6, 2011 12:00 pm
ADDRESS: 7582 W. Cactus Road, Suite B1, Peoria, on the northwest corner of 75th Avenue.
PHONE NUMBER: 623-486-6857 or 623-486-6858.
HOURS: 11 a.m. to 9 p.m. Monday through Thursday, 11 a.m. to 10 p.m. Friday and Saturday, noon to 9 p.m. Sunday.
Thursday, January 21, 2010 12:06 pm
Mark Lobdell worked for years in the automotive industry, but he had a dream of owning an Italian deli. Last week, his dream became a reality when he and his wife, Jenifer, opened Cucina di Vita in downtown Mesa.
Tuesday, July 13, 2010 8:00 am
A local eatery will get a little airtime on national TV Wednesday, and to celebrate it's giving customers a break on pricing.

Get a free mini meatball sandwich on May 22 and 23 at Meatballz Italian Gourmet Deli's two Chandler locations.
Tuesday, October 7, 2008 10:03 pm
If you're of the opinion there are no good restaurants in Queen Creek — certainly none to justify a journey to the far southeast edges of the Valley — The Deli just may change your mind. The four-month-old restaurant is a Slow Food lover's paradise, showcasing locally produced ingredients in an array of delicious sandwiches, pizzas and dinner entrees.
Friday, July 11, 2003 10:16 am
There are places in town where Italian sub sandwiches do not include bologna.

Jack Special, a regular at DeFalco's Italian Grocery and Deli in Scottsdale, enjoys his lunch.
Friday, June 15, 2012 7:01 am
On the heels of the recent announcement of the second phase of restaurants soon to be brought to Phoenix Sky Harbor International Airport, the first phase is underway with a host of establishments already open.
Wednesday, May 19, 2010 11:46 am
Get a free mini meatball sandwich at two Chandler Meatballz locations.
Friday, December 4, 2009 7:59 am
If you need yet another reason to go to The Deli — other than owners Blake and Nicole Mastyck's wonderful food, that is — this may be it: The Queen Creek restaurant's Thursday farmers market has started up again.
Wednesday, April 9, 2008 7:56 pm
Since two New Yorkers opened the first Deli Zone in Boulder, Colo., in 1995, it has grown into an 11-restaurant chain in the Rocky Mountain state. Deli Zone recently opened its first Arizona location on the southeast corner of Baseline and Cooper roads in Gilbert.
Thursday, November 9, 2006 6:00 am
Devlin's Market Place, a gourmet wine and cheese deli and downtown Chandler's main anchor tenant, is changing its name to T'z Market Place.
Thursday, March 23, 2006 5:22 am
With the weather getting warmer — hopefully — check out Gilbert's Jamaica Ice, a newly opened deli that offers tropical drinks made with ice cream, juice and frozen fruit.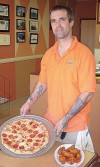 James Povlitz of Nick's Deli & Pizza in Peoria is pictured with a large pepperoni pizza and hot wings.

Owner of Christel's Cafe and Deli, Angie Jordan, will close her downtown Mesa business of 22 years, after she was unable to negotiate a new lease agreement.

BACKER: Chef and co-owner Blake Mastyk talks with customers LaRae DeLeMare, left, and Sanalee Davis at The Deli in Queen Creek.

PRECAUTIONS: Primo Food and Deli in Mesa has added bars on the cashier's window since a May 25 robbery.