Thursday, May 22, 2008 10:58 pm

On Tuesday, a panel of three judges in a federal district court ruled that a lower court was right when it determined that the United States government discriminates against blind people because our currency is not accessible.
Thursday, June 1, 2006 5:47 am
The Suns have once again groped their way back to even footing. A loss tonight to Dallas, while painful and disconcerting, won't end their season. It's a big game. Make that huge. But one way or another, it's not the end of the world. Is there any way to keep that pertinent information away from the Phoenix dressing room before Game 5?

Suns guard Leandro Barbosa puts pressure on the Mavericks' Jerry Stackhouse during Tuesday's game at US Airways Center.
Tuesday, October 7, 2003 9:31 am
Two Scottsdale men were arrested by Tempe police Monday morning on suspicion of making and passing counterfeit currency, police said.
Saturday, March 2, 2013 10:49 pm
State senators voted Wednesday to make gold and silver legal tender in Arizona -- but not copper, cattle, cotton, citrus or climate.
Sunday, February 24, 2013 12:47 pm
Arizonans who fear the federal government will make their folding money worthless may soon be able to substitute privately minted gold and silver coins.
Tuesday, January 1, 2008 8:35 pm
NICOSIA, Cyprus - EU newcomers Cyprus and Malta adopted the euro Tuesday, bringing to 15 the number of countries using the currency with increasing clout over the slumping U.S. dollar.
Wednesday, June 16, 2004 6:58 am
The next time you slip a $1 bill into a vending or slot machine, a Mesa company may be the one to verify it's truly a dollar.
CURRENCY CHECK: Ken Wiesner, sales manager at Pyramid Technologies in Mesa, uses a currency validator the company makes to determine if a dollar is real.

Federal Office of the Comptroller of the Currency closed the Scottsdale-based First National Bank of Arizona on July 25.
Thursday, September 1, 2011 8:53 am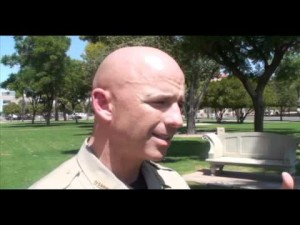 The two dozen members of the Department of Public Safety's Highway Interdiction Program don't get much publicity, but an official says the unit has made an impact on the smuggling of drugs, people and currency.
Sunday, August 22, 2004 7:53 am
NEW YORK - The giant boost to U.S. corporate earnings that has come by way of the weak dollar could fade fast should there be even a slight slowdown in the currency's decline.
Monday, August 4, 2008 6:40 pm
Several traffic stops by Arizona Department of Public Safety officers resulted in the seizure of $632,943 in drug money on July8. All of the money was United States currency.

CLOSED: A sign on the door of a First National Bank of Arizona branch in Gilbert alerts customers that the federal Office of the Comptroller of the Currency has closed the Scottsdale-based bank.

TAKING IT IN: Visitors view the Grand Canyon from Mather Point on the South Rim. With the dollar weak against foreign currencies, officials and experts say Arizona and other tourist hot spots are relative bargains for tourists from other countries.

PENNIES ADD UP: Edmond Knowles goes through his currency after using a coin-counting machine in the lobby of the Escambia County Bank branch in Flomaton, Ala., to count up his penny collection and turn it into greenbacks.

FILE - The June 8, 2011 file photo shows a woman changing Swiss francs to Euro at a counter in Kreuzlingen, Switzerland. The Swiss National Bank set a ceiling on the value of the country's strong currency on Tuesday, using what experts called a last-ditch "nuclear option" to protect its economy and keep exporters competitive. The bank said it would spend whatever it takes to keep the currency from strengthening beyond 1.20 francs per euro and indicated it might take more measures to weaken it further. (AP Photo/Keystone, Ennio Leanza) GERMANY OUT AUSTRIA OUT
Tuesday, December 30, 2003 11:45 am
FRANKFURT, Germany - The euro kept on rolling against the U.S. dollar on Monday, climbing above $1.25 for the first time in its five-year history.
Tuesday, June 14, 2011 9:13 pm
LAS CRUCES, N.M. (AP) — An Arizona woman has been sentenced in New Mexico to time served and two years of supervised release for trying to smuggle almost $14,000 in cash across the Mexican border.
Prosecutors say 19-year-old Daisy Beltran, of Tempe, was sentenced Monday in federal court in Las Cruces.
Beltran was arrested on August 2010 at the port of entry in Columbus, N.M.
Border inspectors say Beltran declared that she wasn't carrying any currency in excess of $10,000 when she attempting to cross into Palomas, Mexico. But inspectors say $13,700 was found in her purse.
Beltran pleaded guilty last Dec. 29 to transporting more than $10,000 in currency out of the country, structuring transactions to evade currency reporting requirements and making a false statement to a federal officer.
Sunday, December 31, 2006 6:58 am
FRANKFURT, GERMANY - The surging euro is confounding critics who once doubted it could rival the dollar, pound and yen — but Europe's shared currency still annoys some consumers five years after its introduction in cash form.
Tuesday, March 19, 2013 8:45 am
The state took another step Monday to allow privately minted gold and silver coins to be considered legal tender in Arizona.
Friday, December 2, 2005 10:24 am
WASHINGTON - The trees won't be the only thing sprouting new colors come springtime.
Saturday, July 10, 2004 7:29 am
By the end of the year, officials at Pyramid Technologies, a designer and manufacturer of currency validators, hope to have all operations moved to east Mesa from a Cleveland suburb.
Wednesday, March 19, 2008 10:46 pm
PORTLAND, Ore. - Nike Inc.'s third-quarter profit jumped more than 30 percent because of strong sales overseas and beneficial currency exchanges, the athletic shoe and apparel giant said Wednesday.