Tuesday, July 5, 2011 1:21 pm
So, just how desperate are you for a free meal at Chick-fil-A? If you show up at a Chick-fil-A dressed from head to hoof as a cow on Thursday, you'll get a free chicken meal; come partially dressed as a cow and you get a free entree. Bring your family with the little ones as calves and the whole herd gets free meals.
Monday, April 4, 2011 11:41 pm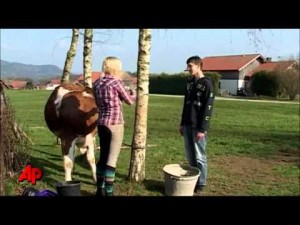 A 15-year-old German girl could not have a horse, so she trained one of her family's cows to become a show jumper. Luna the cow has come to navigate the pasture with equine ease. (April 5)

Back Camera
Friday, March 9, 2007 5:44 am
Who: Marlin and Mary Mayer have lived in Mesa for 23 years. They came from Minnesota where they had a dairy farm. Marlin, 70, worked for United Dairymen of Arizona for 18 years before retiring five years ago. Mary, 65, retired from office work at Monte Vista Village Resort after 18 years.

Marlin and Mary Mayer of Mesa have over 1,000 cows in all shapes and sizes in their collection.
Sunday, January 11, 2004 4:37 am
Creutzfeldt-Jakob disease. New variant Creutzfeldt-Jakob disease. It's all the same to Shirley Olson.

NEWS UPSETTING: Shirley Olson's husband, Olin, died seven years ago from Creutzfeldt-Jakob disease.
Saturday, July 14, 2012 7:41 am
Edible Exchange, a local company that connects communities to locally grown food through barter, is having its second educational series — "Moos, Booze & Schmoose" — from 6:30 p.m. to 9:30 p.m. Thursday, July 19 at Superstition Farm, 440 S. Hawes Road.
Tuesday, November 15, 2011 2:57 pm
An 800-pound cow that wandered into a Chandler neighborhood, rammed two police cruisers and charged at a 6-year-old boy, was shot and killed by police on Sunday, but its origins remain a mystery.
Saturday, June 11, 2011 10:15 am
The back end of a cow provides the front end of the green-energy business that Kevin Maas is slowly expanding in Western Washington and Oregon.
Thursday, July 12, 2007 6:24 am
It's the story of a big, brown Jersey cow that had no friends. Animal activist Kathie McGuire of Gilbert was driving around looking at her new neighborhood when she saw the lonely cow, which she originally thought was neglected.

Kathie McGuire of Gilbert hugs the cow she helped bring to the 4-H Club at Canyon State Academy in Queen Creek.
Monday, March 13, 2006 2:27 pm
WASHINGTON - A cow in Alabama has tested positive for mad cow disease, the Agriculture Department said Monday, confirming the third U.S. case of the brain-wasting ailment.
Thursday, March 2, 2006 10:55 am
It's an unusual crime that has cost a rancher $5,000 and left authorities puzzled. Sometime around Feb. 23, four pregnant cows were shot several times and left to die on a large ranch near Seligman, about 75 miles west of Flagstaff, the Arizona Department of Agriculture announced Wednesday.
Saturday, January 10, 2004 6:06 am
CHICAGO - It will take more than a single Holstein with "mad cow" disease to keep consumers like Ralph Flores from eating their beloved beef.
Wednesday, November 14, 2012 7:15 pm
It was like the wild, wild west in Chandler Wednesday night when a man on a horse rescued a cow that got loose near Chandler Fashion Center.
Friday, March 6, 2009 3:30 pm
"Kids ask all the time if our brown cows make chocolate milk, and they call our goats camels," says Jason Crittenden, manager at Superstition Farm, a working dairy just off the Loop 202 San Tan Freeway in southeast Mesa.

ON THE FARM: Dairy farmer Casey Stechnij shows the different feeds given to his cows on his Superstition Farm in Mesa. Casey and his sister Alison Stechnij are fourth-generation Arizonans and third-generation dairy farmers.