Thursday, August 2, 2012 11:49 am
I found it impossible to take my mind off of it. As I watched thousands of kids gather outside, I was awash in worry and sadness. I was in New Orleans a couple of weeks ago for the triennial gathering of Lutheran youth. This Youth Gathering was very different for me, this time I was present as part of the leadership team, working with other adults to provide some of the programming and service learning for the more than 33,000 kids who came.
Sunday, January 22, 2006 7:56 pm
DENVER - Mike Anderson stood in front of his locker with a bright orange Denver Broncos jersey that he was pulling over his head. Anderson continued pulling and the jersey fell straight. A bold No. 7 spread across his chest. Anderson was asked why he was wearing John Elway's jersey.

Steelers linebacker Joey Porter, left, hauls down Broncos quarterback Jake Plummer by his helmet Sunday during the AFC championship game in Denver.
Friday, December 28, 2012 1:45 pm
Mike McClellan's commentary (Dec. 19) was so full of inaccuracies and blatant lies that I felt compelled to respond.
Tuesday, July 12, 2011 10:34 pm
The most memorable moment from Tuesday's Major League Baseball All-Star game came in the top of the eighth inning.
Wednesday, January 12, 2011 4:30 pm
Bonnie Erbe, guest commentary
Monday, July 26, 2004 6:34 am
Some personal memories of Cotton Fitzsimmons, who died Saturday:
Wednesday, May 1, 2013 10:23 am
Editor's note: Claire Hoogenboom is a broadcast major studying journalism at the Walter Cronkite School of Journalism and Mass Communications at Arizona State University.
Monday, February 25, 2013 8:02 am
Susan Stamper Brown's commentary of Feb. 13 ("Obama administration: Going Jack Bauer on us") had the following statement in it:
Tuesday, July 17, 2012 6:29 pm
I am astounded that the EVT would publish the commentary by Susan Stamper Brown regarding the Affordable Care Act. I fully understand everyone's right to free speech, but this commentary is so full of falsehoods, innuendo, half-truth, and outright lies as to be a farce. Publishing this commentary is pretty much the same as supporting the right to yell fire in a crowded theater.
Thursday, July 31, 2008 9:04 pm
Tempe residents value the quality of their lives and have traditionally chosen to invest financially to create and maintain that quality. Because of our willingness as a community to invest in each other, we have a city that provides among the best municipal services. While enjoying these amenities, Tempe remains among the three least expensive Valley cities in which to live and maintains excellent bond ratings.
Thursday, May 8, 2008 10:02 pm
It may be too late for the White Sox to get a refund for the sensitivity training they were ordered to put manager Ozzie Guillen through two summers ago. The man seems more determined than ever to talk his way out of a job.
Thursday, December 1, 2005 10:47 am
When rumors first started swirling that Troon North Golf Club was up for sale, it was hard to believe. After all, not many golf courses open to the public have been as successful as Troon North, the flagship property of Scottsdale-based Troon Golf.
Wednesday, February 16, 2011 9:57 pm
Jim Ripley, for the Tribune
Wednesday, February 16, 2011 9:57 pm
Jim Ripley, for the Tribune
Wednesday, February 16, 2011 9:57 pm
Jim Ripley, for the Tribune
Wednesday, January 12, 2011 3:26 pm
Jose de la Isla, guest commentary
Sunday, January 9, 2011 1:42 pm
Tina Dupuy, guest commentary
Friday, January 16, 2009 11:38 am
 PHILADELPHIA — I would start this with "no disrespect to the Arizona Cardinals," but there is no way to respectfully write this.
Saturday, August 2, 2008 11:06 pm
Once Sen. John McCain became the "presumptive" Republican nominee for president, the phalanx of McCain staffers swung into action to make sure that all our Arizona delegates and alternates to the Republican National Convention would be properly indoctrinated McCain supporters. However, even though I was Arizona co-chairman for the Ron Paul campaign, I managed to slip through the phalanx and get elected.
Friday, December 7, 2007 10:11 am
Irecently had the opportunity to meet New York Times bestselling author and Pulitzer Prize winning journalist Anna Quindlen. In her remarks, Quindlen was candid about the importance of integrity and honesty in news writing; the unequivocal necessity of balancing truth within journalistic constraints. "It is critical," she said "to make every word count."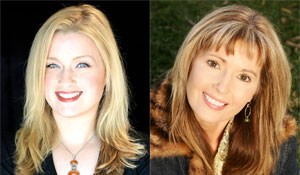 Tiny Dupuy and Susan Stamper Brown, guest commentary