Arizona State Graduates stand as they are recognized for their academic achievements during commencement ceremonies at Sun Devil Stadium, Thursday, May 9, 2013 in Tempe. [Jerry Burch/Special to Tribune]

ASU graduates celebrate during a commencement ceremony, Thursday, May 9, 2013 in Tempe. [Jerry Burch/Special to Tribune]

ASU graduates celebrate during a commencement ceremony, Thursday, May 9, 2013 in Tempe. [Jerry Burch/Special to Tribune]

ASU graduates celebrate during a commencement ceremony, Thursday, May 9, 2013 in Tempe. [Jerry Burch/Special to Tribune]

Celebrating their graduation 50 years ago, the golden alumni march to their seats during ASU's graduation ceremonies a tSun Devil Stadium, Thursday, May 9, 2013 in Tempe. [Jerry Burch/Special to Tribune]

ASU students celebrate graduating,Thursday, May 9, 2013 in Tempe. [Jerry Burch/Special to Tribune]

ASU president Michael Crow,right, presents an ASU jersey to keynote speaker General Martin E. Dempsey, the 18th and current Chairman of the Joint Chiefs of Staff, Thursday, May 9, 2013 in Tempe. [Jerry Burch/Special to Tribune]

ASU students celebrate graduating,Thursday, May 9, 2013 in Tempe. [Jerry Burch/Special to Tribune]

An ASU graduate celebrates during a commencement ceremony, Thursday, May 9, 2013 in Tempe. [Jerry Burch/Special to Tribune]

Melissa Anderson shows off her Disney World mortar board which signals her travel plans after graduating, Thursday, May 9, 2013 in Tempe. [Jerry Burch/Special to Tribune]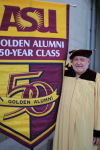 Forty ASU Alumni celebrated their 50-year anniversary during 2013 commencement ceremonies ,Thursday, May 9, 2013 in Tempe. [Jerry Burch/Special to Tribune]

Dylan Klemm sports ASU symbolic pitch fork during graduation, Thursday, May 9, 2013 in Tempe. [Jerry Burch/Special to Tribune]

ASU president Michael Crow,left, sits next to keynote speaker General Martin E. Dempsey, the 18th and current Chairman of the Joint Chiefs of Staff, Thursday, May 9, 2013 in Tempe. [Jerry Burch/Special to Tribune]

ASU President Michael Crow addresses the 2013 graduating class during commencement ceremonies at Sun Devil Stadium, Thursday, May 9, 2013 in Tempe. [Jerry Burch/Special to Tribune]

ASU graduates celebrate during a commencement ceremony, Thursday, May 9, 2013 in Tempe. [Jerry Burch/Special to Tribune]

Graduating ASU students listen to speakers during a commencement ceremony, Thursday, May 9, 2013 in Tempe. [Jerry Burch/Special to Tribune]

General Martin E. Dempsey, chairman of the Joint Chiefs of Staff addresses the 2013 ASU graduating class, Thursday, May 9, 2013 in Tempe. [Jerry Burch/Special to Tribune]

Contributed
Maria Hinojos (right) takes a photo of herself and Sarah Murdock as the two freshly graduated Masters of Social Work wait for the beginning of the 2011 Spring Graduate Commencement Ceremony.

Contributed
Athletic standout Dymond Simon is also an academic standout as she receives a hug from her grandmother, Bobbie Carter, following the spring graduate commencement ceremony where Ms. Simon received her Masters of Liberal Studies.
Friday, March 18, 2011 6:00 am
Players in Arizona's Pokémon Trading Card Game will compete in one-on-one battles Saturday at the 2011 state championships in Mesa.
Friday, March 20, 2009 12:22 pm
President Barack Obama is scheduled to address Arizona State University's graduating class in what would be his second visit to Arizona in his first five months as chief executive.

President Barack Obama and Vice President Joe Biden arrive where the president made remarks to representatives of the National Conference of State Legislatures, March 20, 2009, in the Eisenhower Executive Office Building on the White House campus in Washington.
Friday, May 26, 2006 10:14 am
The night was calm for Westwood High School's commencement on Thursday. Student body president Hector Araujo greeted parents, faculty and staff saying, "Bienvenidos" — Spanish for "Welcome everybody."
Friday, May 26, 2006 6:16 am
The night was calm for Westwood High School's commencement on Thursday. Student body president Hector Araujo greeted parents, faculty and staff saying, "Bienvenidos" — Spanish for "Welcome everybody."