Wednesday, April 29, 2009 5:04 pm

Le Templar: Right now on CNN, "The Situation Room" is conducting a program Wolf Blitzer is calling The National Report Card. People are being asked to go to the CNN we site and provide "grades" on a series of questions related to the first 100 days of the Obama administration.
Friday, August 3, 2007 12:52 am
NEW YORK - CNN scored a coup Thursday when a tipster leaked security camera video of the deadly Minnesota bridge collapse.
Wednesday, April 4, 2007 11:56 am
LOS ANGELES - CNN is revamping "American Morning" for the second time in two years, bringing in network newcomers John Roberts and Kiran Chetry to replace anchors Soledad O'Brien and Miles O'Brien.
Friday, September 1, 2006 11:56 am
NEW YORK - CNN anchor Kyra Phillips, whose ladies room chatter found its way onto her newscast, bounced back two days later with a "Top 10 List" of excuses on the "Late Show with David Letterman."
Wednesday, August 30, 2006 10:57 am
NEW YORK - Kyra Phillips, anchor of CNN's "Live From...," unwittingly upstaged President Bush's speech in New Orleans with on-the-air analysis of her husband and the marriage of her brother - all live from a CNN ladies room.

In this photo released by CBS, Cable News Network anchor Kyra Phillips presents the \"Top Ten List\" on the set of the \"Late Show with David Letterman,\" in New York, Thursday.
Wednesday, November 2, 2005 7:12 pm
NEW YORK - Aaron Brown, once one of CNN's most prominent anchors, is leaving the network after a shakeup that gives his prime-time slot to rising star Anderson Cooper and expands it to two hours.

CNN news anchor Aaron Brown poses in one of the all-news network\'s New York studios Oct. 18, 2001.
Friday, August 5, 2005 7:49 am
NEW YORK - Robert Novak apologized Friday for swearing on the air and walking off a CNN set, but said it had nothing to do with the federal probe sparked by his revelation of a CIA officer's name in a 2003 column.
Monday, August 1, 2005 1:04 pm
SUNNYVALE, Calif. - ABC News and CNN.com plan to start providing video news feeds to Yahoo Inc.'s news site, the companies have announced.

In this photograph taken in June 2003, Karl Rove, senior advisor to President Bush and Robert Novak are pictured together at a party marking the 40th anniversary of Novak\'s newspaper column at the Army Navy Club in Washington D.C.
Thursday, June 16, 2011 5:45 pm
OAKLAND, Calif. - As increasing numbers of Americans get their news online, the owner of CNN.com was accused in a lawsuit Wednesday of discriminating against the hard-of-hearing by failing to provide closed captions for videos posted on the Internet.
Monday, August 3, 2009 8:57 am
NEW YORK -- He's become a publicity nightmare for CNN, embarrassed his boss and hosted a show that seemed to contradict the network's "no bias" brand. And on top of all that, his ratings are slipping. How does Lou Dobbs keep his job?
Tuesday, October 14, 2008 4:11 pm
NEW YORK - MTV's Choose or Lose campaign and CNN have partnered to broadcast a concert supporting veterans of the Iraq and Afghanistan wars.

In this Oct. 13, 2008 file photo, actor Chris "Ludacris" Bridges arrives at the premiere of "Max Payne" in the Hollywood area of Los Angeles.
Monday, July 23, 2007 10:15 am
NEW YORK - CNN said Monday that it has hired anchor Campbell Brown of NBC News, one day after she announced on "Weekend Today" that she would be leaving as host.
Wednesday, July 25, 2007 1:11 am
NEW YORK - Paula Zahn is leaving CNN, turning her prime-time slot over to Campbell Brown. Zahn's final program will be Aug. 2. Others will fill in until November, when Brown - newly hired from NBC News- will start, CNN said Tuesday.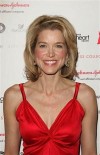 Television personality Paula Zahn arrives to the Red Dress Heart Truth show during Fashion Week in this Feb. 2, 2007 file photo in New York.
Monday, April 2, 2007 6:48 pm
LOS ANGELES - CNN's loss is CBS' election coverage gain: Veteran reporter and analyst Jeff Greenfield is leaving the cable news channel to work as senior political correspondent for CBS News.
Monday, February 5, 2007 3:33 am
Aaron Brown is far from New York City, thousands of miles away from the anchor desk he once manned at CNN. Cocooned inside a Tempe classroom, Brown waxes on about the media coverage of President Bush's State of the Union address from the night before. His audience is no longer on the other side of a TV camera.