Friday, October 13, 2006 3:19 am

Outlook: Valley Christian's defense will get a stiff test this week from a pass-first offensive team that runs out of the shotgun formation with multiple receivers.
Thursday, September 21, 2006 1:22 am
Outlook: Friday's game will likely decide the playoff fate for one of these two teams.
Friday, October 27, 2006 3:32 am
Outlook: The door to the 2A playoffs is open for Scottsdale Christian, but there happens to be a big bouncer standing in the way whose name is Valley Christian.
Friday, September 15, 2006 2:34 am
Outlook: There were a lot of firsts last year for Scottsdale Christian, one of which was a win over Metro Region rival Phoenix Christian.
Friday, October 21, 2005 1:58 am
Address: 1751 W. Indian School Road, Phoenix; Records: Valley Christian 6-1, 4-0 Metro; Phoenix Christian 4-2, 2-2.; Gametime: 7:00 p.m.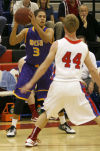 Mesa junior guard Christian Harris (left) was held back a year before entering high school. The junior captain said it was the right decision for him and his basketball development.

Gilbert Christian football players work out on their football field in preparation for the upcoming season, the school's first varsity football campaign.

ABC NEWS - CHRISTIANE AMANPOUR (ABC/ Ida Mae Astute)

Contributed
Saturday, March 4, 2006 6:05 am
Joani Castillo loves the Lord so much that she could just dance — or sing or act or mime. Yet she's on a mission to help people cultivate and refine their skills of art and expression as callings from God to serve churches and the world.
FAITH EDUCATOR: Joani Castillo is a founder and director of Experience Arts School at Word of Grace Church in Mesa.
Saturday, February 20, 2010 8:41 pm
Kristen Johannsen summed up Valley Christian's triumph Saturday night early in the fourth quarter when she jumped as high as she could and dislodged the ball stuck between the rim and backboard at the Trojans' end of the floor so play could resume.
Saturday, September 16, 2006 4:24 am
Scottsdale Christian (2-2) was manhandled by 2A Metro Region rival Phoenix Christian (3-0), as tailback Rocky Gingg had 200 yards and four touchdowns.
Friday, October 30, 2009 5:56 pm
Sunday, November 1, 2009 12:25 pm
The Scottsdale Christian football team was an uninvited guest Friday night to the 2A Central Region party.
Friday, September 18, 2009 6:21 pm

Valley Christian's Jordan Morgan pulls away from Scottsdale Christian defenders for a 43-yard touchdown run in the second quarter of the Trojans' victory. Sept. 18, 2009.
Friday, October 31, 2008 11:32 pm
When Scottsdale Christian fumbled away a chance to win the 2A Metro Region championship Friday, Chandler Valley Christian was there to pick it up. The Trojans turned an Eagles fumble on the opening kickoff into a touchdown and built on that turnover for a 35-21 victory Friday night at Valley Christian.
Friday, October 24, 2008 11:51 pm
 Player and coach alike smiled, keenly aware of how a dominant performance has set up a for-all-the-marbles matchup next week against a rival.
Saturday, October 27, 2007 3:49 am
Faced with a bigger opponent in the biggest game of the year, Scottsdale Christian relied on the big play.