Tuesday, January 6, 2009 11:11 am

 Do-it-yourself types don't mind c h a n g i n g their own oil, but r e m ov i n g the filter u s u a l l y results in a dirty, drippy job that's no fun at all. The FilterGlove, developed by Florida-based Kupuna Inc., significantly reduces this hassle, leaving you and your garage floor or driveway cleaner in the process.
Monday, March 3, 2008 10:58 pm
TUCSON - For several years, Robby Hammock has been labeled as a flexible multi-tasker - a handy component able to provide a quick fix almost anywhere.As Hammock enters his 10th spring with the Diamondbacks, he wants that to change.

Arizona Diamondbacks catcher Robbie Hammock (right) works on blocking drills as Chris Snyder looks on during spring training workouts in Tucson.
Friday, September 8, 2006 12:40 am
Former catcher Bob Melvin knows what he likes in a catcher, and he said he saw it in Miguel Montero's major league debut Wednesday.
Thursday, May 4, 2006 12:20 pm
Diamondbacks catchers lead the National League in home runs and RBIs and are tied with Cleveland for the major league lead in both categories, a distinct turnaround from last season, when they were last in both.
Tuesday, February 22, 2005 5:39 am
TUCSON - When Koyie Hill was a senior at Lawton (Okla.) Eisenhower High School, he occasionally would work out with the best-known major leaguers in his hometown, Butch Huskey and Kelly Stinnett.
Sunday, May 6, 2007 9:16 am
From warm-up catcher to MVP. Megan Crawley's Saturday started by warming up the Scottsdale Desert Mountain pitchers, then continued as an observer on the bench.

SAFE: Desert Mountain's Sami Maltese, left, can't hold on to the ball while Deer Valley's Meagan Gibson slides safely into second base Saturday at Rose Mofford Sports Complex.
Friday, September 8, 2006 12:41 am
Former catcher Bob Melvin knows what he likes in a catcher, and he said he saw it in Miguel Montero's major league debut Wednesday.
Wednesday, December 7, 2005 12:57 pm
DALLAS — In the first trade of the Josh Byrnes Era, the Diamondbacks acquired catcher Johnny Estrada from Atlanta on Wednesday. The D-Backs sent right-handers Oscar Villarreal and Lance Cormier to Atlanta.
Sunday, April 27, 2003 12:39 am
For Bob Brenly, they were unexpected, unwanted souvenirs from his first major league game.
Thursday, December 31, 2009 3:26 pm
Authorities say Detroit Tigers catcher Gerald Laird and his younger brother, who's a prospect with the New York Yankees, were arrested following a brawl in the lounge area of Phoenix's NBA arena.
Monday, May 12, 2008 10:27 pm
Grand Canyon University senior catcher Dan Colella, a Gilbert Highland High School product, was named to the ESPN The Magazine/College Sports Information Directors of America Academic All-District 8 team.
Wednesday, March 12, 2008 5:54 pm
The first pitch he saw all day was a curveball. Mountain Pointe catcher C.J. Cron, resting an injured quadricep against Scottsdale Horizon Feb. 25, had to sit and watch as his team fell behind 5-0 to the Huskies.

C.J. Cron (left) high-fives teammate Eric Klem (7) after driving in two run in pinch-hit duty Monday against Horizon.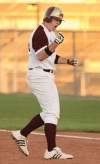 Nursing an injured quadricep, Mountain Pointe's C.J. Cron celebrates his pinch-hit, two-run single off the bench against Scottsdale Horizon last month.
Monday, November 5, 2007 9:40 pm
Former Sun Devil Tuffy Gosewisch capped a four-run, sixth-inning rally with a two-RBI double as the visiting Peoria Saguaros topped the Surprise Rafters, 4-1, in Arizona Fall League action on Monday.
Saturday, May 12, 2007 1:57 am
Playoff softball is not the time for sickness and injuries. Those were the cards Scottsdale Christian was dealt on Friday in the 2A softball semifinals at Rose Mofford Sports Complex.

DELIVERY: Scottsdale Christian pitcher Heidi Purtzer wheels as she delivers a pitch against Willcox during their 2A semifinal softball game Friday.

LOOK IT IN: Diamondbacks catcher Chris Snyder follows a pitch during practice Sunday at Tucson Electric Park.