In this image taken on Jan. 7, 2013, Buffalo chicken tenders are shown in Concord, N.H. (AP Photo/Matthew Mead)

In this image taken on Jan. 7, 2013, Buffalo chicken tenders are shown in Concord, N.H. (AP Photo/Matthew Mead)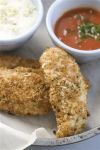 In this image taken on Jan. 7, 2013, Buffalo chicken tenders are shown in Concord, N.H. (AP Photo/Matthew Mead)

In this image taken on Jan. 7, 2013, Buffalo chicken tenders are shown in Concord, N.H. (AP Photo/Matthew Mead)

Buffalo Chip Saloon
Saturday, September 9, 2006 1:46 am
Tempe's defense shined early, but faded quickly Friday in a 28-13 loss to Phoenix Sunnyslope in a nonregion game at Tempe.
Saturday, September 4, 2004 8:19 am
Friday, October 8, 2004 11:24 am
Wednesday, February 10, 2010 8:14 am
It's hard to decide what I like best about Buffalo Wings & Rings: Is it one the best selections of craft beers on tap in the entire Valley? Or is it those beers are available at some of the best prices in the Valley?

Phoenix Coyotes' Keith Yandle (3), Bill Thomas (21) Steven Reinprecht (28) and Derek Morris (53) celebrate a goal against the Buffalo Sabres as Sabres' Henrik Tallinder (10) skates past during the second period of an NHL hockey g
Monday, December 31, 2007 6:25 pm
An elderly Cave Creek man was mauled by a buffalo Monday as he was attempting to ride it.
Thursday, December 13, 2007 1:17 am
Despite being outscored 24-13 in the fourth quarter, Tempe High held on to defeat visiting Flagstaff Coconino 63-59 in a 4A-II nonregion boys basketball game Wednesday night.
Wednesday, January 31, 2007 4:10 am
Tempe had to do something Tuesday night it didn't have to do all season — rebound from a loss.

Notre Dame Prep's Berekk Blackwell, left, and Tempe's Fernando Zapata fight for the ball Tuesday during a 4A-II state boys soccer first-round match at Tempe High School.
Saturday, September 10, 2005 12:47 am
Phoenix Sunnyslope broke through with its first win of the season by downing Tempe High 24-10 at Vikings Field.
Thursday, January 17, 2013 7:00 am
First, a confession. I don't watch the Super Bowl. As a matter of fact, I rarely even know who is playing. Still, I'm well aware that it is far and away America's largest secular holiday and that the celebration requires not only watching the game on television, but also eating a hefty snack or meal while doing so.
Saturday, February 21, 2009 8:32 pm
CLARENCE, N.Y. - Hundreds of mourners gathered Saturday to remember a Sept. 11 widow killed in a commuter plane crash and the owner of the suburban Buffalo home that was destroyed by the crash.

Bill Wielinski , right, speaks at a memorial service for his brother Douglas Wielinski at the Clarence Middle School Auditorium in Clarence, N.Y., Saturday, Feb. 21, 2009.
Monday, November 3, 2008 6:12 pm
Buffalo Wings & Rings, one of the country's fastest-growing restaurant chains, has opened its first East Valley location on the northeast corner of Dobson Road and Chandler Boulevard in Chandler.
Saturday, October 18, 2008 12:06 am
 The still-active military installation Fort Huachuca will host a historical tour Saturday where visitors can learn about the contributions of the Buffalo Soldiers and how they lived in the unforgiving frontier of the West.
Friday, August 15, 2008 1:37 pm
Look out, Buffalo Wild Wings. Buffalo Wing & Rings, one of the country's fastest-growing restaurant chains, will open its first East Valley location in Chandler in mid-October.