Tuesday, October 18, 2011 4:13 pm

We just moved back to Arizona after living in Nashville for several years. My 12 year old daughter goes to Brimhall Junior High School. When we decided to give up a wonderful life rooted in the music business in Nashville to return to Arizona my daughter was less than thrilled. But after her first day at Brimhall all was forgiven. She felt like she had found a home. She loves her school. She is now a member of the Student Council, on Yearbook committee, and so on. She was never one to get too involved with school activities and although she got good grades pretty much did not care much for school. Now, she looks forward to going and is on honor roll. I cannot begin to tell you how impressed I have been with the school and it's teachers.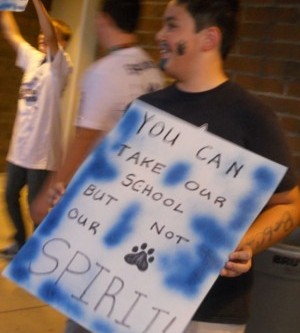 Justin Quintana, 12, a seventh-grader at Brimhall Junior High School in Mesa, shows his support for the campus Tuesday night during a public hearing to close the school.
Monday, April 16, 2012 8:47 am
Come celebrate 20 years of Mesa's Brimhall Junior High School during a reception April 27 on the campus at 4949 E. Southern Ave.
Roy Leggett, lead custodian at Franklin at Brimhall Elementary and Franklin Junior high moves filing cabinets from the schools library, Friday, July 6, 2012 in Mesa. [Tim Hacker/Tribune]
Tuesday, November 8, 2011 8:34 pm
Mesa Junior High School -- which opened 59 years ago -- will close at the end of the school year.
Tuesday, September 27, 2011 8:45 pm
The Mesa Unified School District governing board could vote as soon as November to close Mesa Junior High School and convert Brimhall Junior High School into a Franklin back-to-basics campus next school year.
Tuesday, October 18, 2011 8:27 pm
A loud and energetic crowd spoke out Tuesday night, mostly against recommendations to close Mesa's Brimhall Junior High School and merge three Franklin schools onto that campus.
Tuesday, October 4, 2011 8:35 pm
Parents, students, younger siblings and staff members nearly filled Mesa Junior High School's auditorium Tuesday night to hear why that school is being recommended for closure at the end of the 2011-2012 school year.
Thursday, September 29, 2011 11:21 am
The community can participate Tuesday in the first public hearing about recommendations to close Mesa Junior High School and move students from three Franklin campuses to Brimhall Junior High School next school year.
Tuesday, November 8, 2011 4:15 pm
Brimhall Junior High science teachers Christine Day and Peggy Ostrander will represent the school and Mesa during the National Mars Educator Conference and the launch of the new Mars rover Curiosity in Florida this month. The two are among 75 teachers from across the country invited to participate in the event.
Wednesday, July 11, 2012 7:45 am
School books, desks and boxes are tucked into many corners and hallways at the former Brimhall Junior High School in Mesa.
Wednesday, December 14, 2011 7:25 am
The Mesa Unified School District governing board voted 5-0 to approve boundary changes for next school year in the wake of an earlier decision to close two junior high schools.
Sunday, November 6, 2011 7:00 am
After nearly two months of discussion and public hearings, the Mesa Unified School District governing board is scheduled to vote Tuesday on plans to close Mesa Junior High School and change the educational program at Brimhall Junior High.
Friday, September 23, 2011 1:12 pm
Mesa Unified School District leaders will list the junior high schools they believe should be closed or "repurposed" next school year during a public meeting 7 p.m. Tuesday.
Thursday, April 21, 2011 1:55 pm
Carson Junior High School sits in a corner of an aging northwest Mesa community. Enrollment has dropped continually over the past few years, as it has across many Mesa schools.
Monday, April 23, 2012 3:36 pm
Sixth-graders at Chandler's Andersen Elementary School may attend school at the adjacent Andersen Junior High School next year.
Monday, February 6, 2012 7:49 am
Just over two years ago, the Mesa Unified School District voted to close Powell Junior High School as a neighborhood school.
Wednesday, November 11, 2009 8:11 pm
Parents and employees sending comments to the Mesa Unified School District largely support a proposal to create ninth grade through 12th grade high schools.
Saturday, October 6, 2007 4:47 am
Not a fan of equations and formulas? Be prepared. Educators at local and state levels are close to increasing the math requirements for high school graduation.
Monday, October 8, 2007 12:31 am
FALL BREAK: The Gilbert, Higley and Coolidge unified school districts, Tempe Union High School District and Tempe Elementary School District will be on fall break today through Friday.
Thursday, October 16, 2003 9:52 am
More than half of Arizona's best public schools can be found in the East Valley, according to data released Wednesday by the state Department of Education.
Thursday, December 1, 2011 6:00 am
With the closing of two junior high schools as neighborhood campuses for next school year, the Mesa Unified School District will hold hearings to create new junior high attendance boundaries.
Wednesday, August 30, 2006 1:57 pm
A Mesa police officer who worked full-time at Power Middle School has been reassigned following allegations of inappropriate conduct toward a faculty member.
Wednesday, September 5, 2007 1:29 am
School district administrators in the East Valley are blaming a contradiction in education laws for a high number of schools failing to make "adequate yearly progress" under the federal No Child Left Behind requirement.
Saturday, September 19, 2009 2:51 pm
Twenty-two schools in the Mesa Unified School District are running at 80 percent student capacity or less. Seven schools each have more than $3 million in repairs needed in the next five years. The district's enrollment has dropped by more than 6,000 students in the last eight years, and its budget has been chopped by at least $60 million in the last two.