A Border Patrol agent drives his white and green vehicle, above, along the border fence as cars and people cross a road the runs alongside the international border in Tijuana, Mexico, Friday, June 22, 2012. Former Border Patrol agents Raul Villarreal and his older brother and fellow former agent, Fidel Villarreal, are charged with smuggling hundreds of Brazilians and Mexicans to the United States in Border Patrol vehicles. Federal prosecutors say the brothers were tipped they were under investigation in June 2006, prompting them to empty their retirement accounts and flee to Mexico. (AP Photo/Gregory Bull)

FILE PHOTO: Kent Terry Sr., father of Border Patrol Agent Brian Terry, and Richard "Rick" Barlow, chief patrol agent of the Tucson sector, share a quiet moment during the dedication ceremony for a new station named after Brian Terry, Tuesday, Sept. 18, 2012 on Naco, Ariz. Brian was killed in a December 2010 firefight with bandits north of the Mexican border. Two guns found at the scene of the shootout were bought by a member of a gun smuggling ring that was being monitored in the government's botched gun smuggling probe known as Operation Fast and Furious. (AP Photo/Sierra Vista Herald, Beatrice Richardson)
Monday, August 16, 2010 8:46 am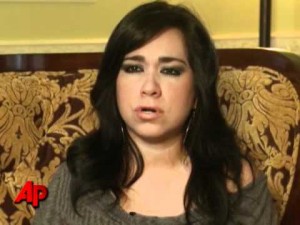 Ten U.S. Border Patrol have committed suicide since the beginning of 2009, the biggest surge in more than 20 years. Now the agency is responding, producing a video to help spot signs of trouble. (Aug. 16)

A Border Patrol vehicle drags tires to smooth the ground next to the border fence in the Yuma Sector.
Tuesday, October 28, 2008 2:17 pm
TUCSON - The chief of the U.S. Border Patrol's Tucson Sector says there's a response plan ready in case organized crime violence wracking northern Mexico spills over the border.
Wednesday, May 7, 2008 6:18 am
TUCSON - U.S. Border Patrol agents have been busy rescuing illegal border crossers after they've become severely dehydrated while trying to cross the harsh Arizona desert.
Wednesday, December 22, 2010 7:00 am
A sad day for not only Arizonans but for all Americans. Another heroic U.S. Border Patrol agent was killed in the line of duty. Words of condolence to the family of officer Brian Terry seem so inadequate at this time. The agents of the U.S. Border Patrol perform the front-line defense of America's borders. Theirs is a thankless job. They are reviled and demeaned by the left-wing liberals as racist bigots. Yet I, as a Mexican-American, have only been treated with courtesy and respect whenever I have crossed back to the United States.
Monday, August 16, 2010 3:43 pm
FORT HANCOCK, Texas — After a bad day on the job as a Border Patrol agent, Eddie DeLaCruz went home and began discussing with his wife how to celebrate her upcoming birthday. Then he casually pressed his government-issued handgun under his chin and pulled the trigger.
Thursday, May 22, 2008 12:16 am
Two Border Patrol agents assigned to southern Arizona are suing the agency, accusing its Tucson sector chief of illegally retaliating against them for publicly exposing illegal practices.
Sunday, January 20, 2008 10:19 pm
A U.S. Border Patrol agent killed after being struck by a fleeing vehicle along the border in southeastern California was identified Sunday as a 32-year-old husband and father of two.
Wednesday, May 3, 2006 11:54 am
Sheriff Joe Arpaio said he wants to hang a banner warning illegal immigrants to stay out of Maricopa County.
Wednesday, May 3, 2006 11:54 am
Sheriff Joe Arpaio said he wants to hang a banner warning illegal immigrants to stay out of Maricopa County.
Wednesday, March 30, 2005 4:59 am
WASHINGTON - The Bush administration will deploy more than 500 additional Border Patrol agents to Arizona to deter illegal immigrants from crossing the U.S.-Mexico border, officials said Tuesday, even as a self-appointed civilian group was preparing to launch its own patrols.
Wednesday, October 3, 2012 7:52 am
NACO - Investigators were scouring the Naco, Arizona area Wednesday following the death of U.S. Border Patrol Agent Nicholas Ivie.
Tuesday, May 8, 2012 3:20 pm
Kent Terry, the brother of slain US Border Patrol Agent Brian Terry will be the main speaker during the Pinal County Sheriff's Office Peace Officer's Memorial Service on Thursday.
Wednesday, December 15, 2010 4:31 pm
NOGALES, Ariz. — A shootout between border patrol agents and bandits in the rugged canyons near Mexico's border left one officer dead and a suspect injured, a union official said Wednesday, the latest outburst of violence along the busiest smuggling corridor into the U.S.
Saturday, July 17, 2010 9:57 am
Minutemen groups, a surge in Border Patrol agents, and a tough new immigration law aren't enough for a reputed neo-Nazi who's now leading a militia in the Arizona desert.
Wednesday, April 14, 2010 1:23 pm
WASHINGTON — A group of House Republicans say Border Patrol agents should be granted direct control over U.S. borders, even on federal lands managed by other agencies.
Wednesday, March 31, 2010 7:43 am
TUCSON -- Motorcycles, all terrain vehicles and other equipment has been presented to Mexican authorities by the U.S. Border Patrol.
Monday, December 28, 2009 5:02 pm
 TUCSON -- Authorities say a U.S. Border Patrol agent who was shot in the ankle by assailants south of Tucson has undergone successful surgery.
Friday, August 28, 2009 5:26 pm
A draft government study found the Border Patrol isn't measuring how its checkpoints along the border affect the quality of life in surrounding communities.
Friday, July 24, 2009 11:53 am
SAN DIEGO -- A U.S. Border Patrol agent was shot to death in a remote area of San Diego County as he tracked suspected illegal immigrants or drug smugglers, authorities said Friday.
Tuesday, July 14, 2009 11:58 am
TUCSON — Federal officials say agents in the U.S. Border Patrol's Tucson sector have seized a record 1 million pounds of marijuana, with an estimated street value of $800 million, so far this fiscal year.
Saturday, December 27, 2008 7:20 pm
YUMA Border Patrol agent David Zahn's experience shows as he winds his dirt bike around orange cones on a rocky training course. Two colleagues have a steeper learning curve, one of them stalling repeatedly and the other finding his groove after riding tentatively at first.
Tuesday, December 23, 2008 1:14 pm
YUMA - A U.S. Border Patrol agent shot at two robbery suspects who tried to run him over in their car early Tuesday morning, killing one, officials said.