An 1830 first-edition Book of Mormon and a selection of framed individual pages owned by retired bookstore owner Helen Schlie are displayed at her home Friday, Aug. 19, 2005, in Gold Canyon, Ariz. (AP Photo/Matt York)

In this file theater publicity image released by Boneau/Bryan-Brown, from left, Rema Webb, Andrew Rannells and Josh Gad perform in "The Book of Mormon" at the Eugene O'Neill Theatre in New York. The Broadway League on Monday, April 25, 2011 said that total grosses for the week ending Sunday soared to $28.9 million, up from $23.8 million the week before. (AP Photo/Boneau/Bryan-Brown, Joan Marcus)
Thursday, August 14, 2003 11:12 pm
Mormon leaders are condemning a fast-selling new book by a popular author that paints an unflattering picture of church history and Joseph Smith, the religion's founder and prophet.
Tuesday, April 26, 2011 3:09 pm
Fans of "The Book of Mormon," rejoice: You'll soon be able to sing along with the musical at home.
Thursday, January 10, 2008 10:57 am
The introduction to the 2006 edition of the Book of Mormon has a new word: among. It sounds trivial, but to some it represents a huge change to teachings that have been passed on for generations within The Church of Jesus Christ of Latter-day Saints.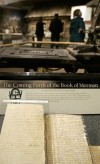 Hand-written pages from the original Book of Mormon are displayed in the church's history museum Wednesday in Salt Lake City.
Sunday, May 20, 2007 6:01 am
Luis Cruz grew up in the Catholic tradition that his parents taught him in Chiapas, Mexico. But when he came to Phoenix more than three years ago, he developed a spiritual void that the Catholic Church was unable to fill.
Saturday, October 6, 2007 10:53 pm
A dramatic increase in public and media interest in the Mormon Church has compelled church leaders to carry out a multipronged effort to better inform the public about the church and to dispel misconceptions.
Sunday, September 23, 2007 4:46 am
Being excommunicated for apostasy by the Mormon church is one thing, but Lyndon Lamborn is livid that his stake president has ordered bishops in eight Mesa wards to take the rare step of announcing disciplinary action against him to church members today.
Thursday, June 14, 2012 6:14 am
A rare, first-edition of the Book of Mormon that was helping to provide funds for missionary work before going missing last month will soon resume its own mission following the arrest of the man police say took the book with plans to sell it page by page.
Tuesday, June 12, 2012 5:23 pm
Authorities have recovered a rare first-edition of the Book of Mormon believed to be stolen from a downtown Mesa bookstore over Memorial Day weekend, and have taken a man into custody in connection with the reported theft.
Thursday, May 31, 2012 3:58 pm
A rare, first-edition copy of one of the Mormon community's most holy books has been missing for nearly a week, and its owner would like to have it back so it can complete its religious mission.
Saturday, June 25, 2011 6:01 pm
Christine Peters has come a long way from making puppet theaters out of cardboard boxes as a kid in St. Louis, Mo.
Tuesday, September 22, 2009 9:59 am
SALT LAKE CITY — Mormon church historians are set to release the second book in a 30-volume documentary series that chronicles the life and work of the faith's founder.
Saturday, September 15, 2007 1:09 am
They walk through urban slums in sweltering heat, struggle with native languages to try to be understood, and explain the teachings of a religion some have never heard of.

Female voices: Melissa Baird Carpenter has compiled a book of essays written by sister missionaries including herself. The book is called "18 Months: Sister Missionaries in the Latter Days." When she was 23, she traveled to El Salvador to comple
Wednesday, August 24, 2005 6:41 am
Retired bookstore owner Helen Schlie can see a higher purpose in selling her 1830 first-edition Book of Mormon one page at a time.

Retired bookstore owner Helen Schlie displays her 1830 first-edition Book of Mormon and a selection of framed individual pages Friday at her home in Gold Canyon. MATT YORK, THE ASSOCIATED PRESS
Friday, December 7, 2007 10:11 am
Irecently had the opportunity to meet New York Times bestselling author and Pulitzer Prize winning journalist Anna Quindlen. In her remarks, Quindlen was candid about the importance of integrity and honesty in news writing; the unequivocal necessity of balancing truth within journalistic constraints. "It is critical," she said "to make every word count."
Thursday, August 5, 2010 9:54 am
SALT LAKE CITY — Salt Lake City bookseller Deseret Book says it will publish the official biography of Mormon church President Thomas S. Monson in September.
Deseret Book President and CEO Sheri Dew announced the book's release on Thursday. The 608-page volume goes on sale Sept. 27.
Award-winning author and screenwriter Heidi S. Swinton wrote the book, which is titled, "To the Rescue: The Biography of Thomas S. Monson."
The 82-year-old Monson is the 16th president of Utah-based Church of Jesus Christ of Latter-day Saints. Head of the 13.5-million member faith since 2008.
Deseret Book is a church-owned publishing company.
Tuesday, February 28, 2012 4:57 pm
I challenge anyone to find a listing for the Mormon church in any phone book in America.
Friday, October 5, 2012 7:16 pm
SALT LAKE CITY — Tens of thousands of the Mormon faithful are descending on Utah's largest city for their church's semi-annual general conference to hear gospel-centered talks about faith, family and mission work from senior church leaders.
Monday, April 18, 2011 1:52 pm
David Yount, guest commentary
Sunday, September 2, 2012 1:19 pm
WOLFEBORO, N.H. — Republican Mitt Romney, the first Mormon presidential nominee of a major political party, sat in the Wolfeboro Church of Jesus Christ of Latter-day Saints on Sunday as, one by one, members of his congregation credited him for bringing the faith more into the public eye.