Monday, January 10, 2011 2:22 pm

PHOENIX - Jared Loughner, his head shaved and a cut on his right temple, stared vacantly at a packed courtroom Monday. About 100 miles away, the congresswoman he is accused of trying to assassinate lay gravely wounded, but able to give a thumbs-up sign that doctors took as hope.
Friday, April 4, 2008 11:05 pm
 LONDON - Naomi Campbell was released on bail Friday after a spat with a police officer at Heathrow Airport's troubled new Terminal 5, where one of her bags was lost.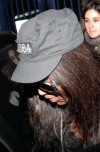 British model Naomi Campbell leaves the police station at London's Heathrow airport Friday April 4, 2008, after she was arrested following an incident before a flight she was taking a few hours earlier.
Wednesday, December 1, 2004 9:53 am
Wednesday, September 29, 2004 6:27 am
It was exactly the kind of game — two last-place teams combining for five errors, 11 walks and three blown saves — in which a career minor-leaguer could be the hero.
Monday, April 19, 2004 9:41 pm
True, Spain's new prime minister, Jose Luis Rodriguez Zapatero, campaigned on a pledge to pull Spanish troops out of Iraq. And true, polls showed that almost 90 percent of Spaniards opposed the troops being there in the first place.
Wednesday, October 1, 2003 5:56 pm
Gilbert police and Maricopa County court officials have some explaining to do regarding why a man accused of molesting a neighbor girl was set free on $16,200 bond, even though he's a registered sex offender with three prior arrests.
Friday, February 1, 2008 6:59 pm
A Navy sailor accused of molesting a 13-year-old girl on a flight from Hawaii will remain in federal custody in Phoenix until his next hearing on Feb. 15, a federal judge ruled Friday.
Saturday, November 24, 2007 2:33 am
National homebuilders are selling off thousands of acres of land across the Valley — often at a loss — to stem the bleeding from stagnating sales and appease stockholders.
Friday, June 8, 2007 6:56 am
Upset with judges they say ignore the law, state lawmakers voted Thursday to make it harder for those in this country illegally to get released on bail if they're accused of certain crimes.
Thursday, December 14, 2006 9:35 pm
NEW YORK - Friends presented a $250,000 bail package Friday for Yoko Ono's driver, jailed after he was accused of threatening to have John Lennon's widow killed unless she gave him $2 million.
Thursday, January 4, 2007 8:57 pm
NEW YORK - Busta Rhymes posted bail and was released Thursday after being arraigned on misdemeanor assault charges that say the hip-hop star beat a man last month in a dispute over money.

Koral Karsan, a chauffeur for Yoko Ono, is lead out of the 20th Police Precinct in Manhattan, New York.

Rapper Busta Rhymes performs during the opening act of the Mariah Carey
Wednesday, February 8, 2006 6:05 am
LOS ANGELES - Guitarist Rafael Moreira, who has worked with Pink, Christina Aguilera and other pop stars, was defending himself when he struck a student with a guitar, the musician's attorney said.
Sunday, December 11, 2005 6:02 am
TUCSON - It's getting to be a familiar script.
Sunday, December 11, 2005 6:01 am
TUCSON - It's getting to be a familiar script.
Tuesday, March 22, 2005 9:06 am

John Evander Couey
Tuesday, July 27, 2004 11:51 am
Saturday, July 12, 2003 2:00 am
A 33-year-old Chandler police officer arrested Thursday twice admitted he molested a 14-year-old girl — during a phone call with the girl and during a police interrogation, a deputy Maricopa County attorney said Friday.