Monday, September 27, 2004 6:10 am

ATLANTA - The tears lingered in Josh McCown's eyes as he stood at the podium and tried to explain Dennis Green's decision to bench him Sunday as the Cardinals' quarterback.
Monday, January 21, 2008 9:26 am
ATLANTA - Hundreds of civil rights leaders and others crowded Martin Luther King Jr.'s Ebenezer Baptist Church on Monday to the celebrate the man and his legacy.
Thursday, June 14, 2007 10:44 pm
DENVER - An Atlanta attorney will have surgery next month to remove lung tissue infected with extremely drug-resistant tuberculosis, hospital officials said Thursday. Andrew Speaker will have surgery at the University of Colorado Hospital in suburban Aurora, but the date has not been set.

In this photo released by the Public Affairs Office of the National Jewish Medical and Research Center, shows tuberculosis patient Andrew Speaker in his isolation room at the National Jewish Medical and Research Center in Denver.
Tuesday, September 27, 2005 1:51 pm
ATLANTA - Ashley Smith, the woman who says she persuaded suspected courthouse gunman Brian Nichols to release her by talking about her faith, discloses in a new book that she gave him methamphetamine during the hostage ordeal.

Ashley Smith walks with to a news conference in this March 23 file photo in Atlanta.
Friday, April 8, 2005 12:31 pm
Wednesday, March 30, 2005 9:42 am
PINELLAS PARK, Fla. - With time running out for Terri Schiavo, a federal appeals court Wednesday rejected her parents' latest attempt to get the brain-damaged woman's feeding tube reconnected.

The Rev. Jesse Jackson, right, and Florida Gov. Jeb Bush speak to the media about the Terri Schiavo case on Wednesday in Tallahassee, Fla.
Saturday, March 12, 2005 9:26 am
DULUTH, GA. - The search for a rape suspect accused of shooting a judge and two others at a courthouse ended Saturday after authorities surrounded a suburban apartment complex where he had taken a woman hostage in her home.

In this image taken from video provided by CNN/Turner Security, a man resembling Brian Nichols is seen donning a jacket in a stairwell of a parking garage in Atlanta around 9:37 a.m. EST on Friday.
Monday, September 21, 2009 12:46 pm
INDIANAPOLIS — The men's Final Four in 2011 will be played at Reliant Stadium in Houston, the NCAA said Monday. Tucson will be a second-round host in 2011 and Phoenix is on the list of regional sites for 2012.
Monday, December 29, 2008 10:48 pm
Tickets are available for Saturday's playoff game.

TOUGH YARDS: Cardinals receiver Steve Breaston, center, holds on to the ball as he is tackled by Seahawks defensive backs Brian Russell, left, and Josh Wilson during Sunday's game. Breaston finished the season with more than 1,000 receiving yards.
Sunday, December 28, 2008 2:11 pm
The feel-good season is back. The Cardinals, prodded by fans whose verbal swats on the backside at times were more forceful than mere "love taps," ended their regular season in the way they'd hoped on Sunday.

Rapper T.I. whose real name is Clifford Harris, of Atlanta, reacts to a question from defense attorney Charles Isaly in Hamilton County Common Pleas Court, Friday, Nov. 21, 2008, in Cincinnati.
Wednesday, June 18, 2008 9:52 pm
ATLANTA - Rapper Young Jeezy was charged with driving under the influence and speeding after he was pulled over on an Atlanta highway early Wednesday.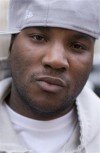 This Nov. 22, 2006 file photo shows rapper Young Jeezy in New York. Young Jeezy is facing charges of driving under the influence and speeding after he was pulled over on an Atlanta highway early Wednesday June 18, 2008.
Friday, August 17, 2007 12:20 am
These days, Kirk Gibson's vu is decidedly deja. The Diamondbacks' bench coach detects a lot of Orel Hershiser in Brandon Webb, who will attempt to extend his franchise-record streak of 33 consecutive scoreless innings tonight against Atlanta.