In this film publicity image released by The Weinstein Company, Jean Dujardin portrays George Valentin, left, and Berenice Bejo portrays Peppy Miller in a scene from "The Artist."

Acrylic artist Jennifer White works on a piece of artwork inside the Arizona Arts Collective Gallery in downtown Mesa, Friday, May 7, 2010.
Sunday, December 16, 2012 3:49 pm
A Gilbert artist has a solo exhibit of 50 fine-art photographs showcased at Arizona State University Gammage on the Tempe campus through the end of the year.
Friday, July 11, 2008 4:34 pm
What does it take to be one of the Phoenix Fridas?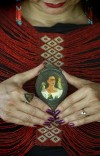 LADY IN RED: Artist and musician Carmen de Novais, of Mesa, holds a portrait of renowned Mexican artist Frida Kahlo against a beaded shawl de Novais created of Japanese glass beads. The shawl consists of about 5,000 beads and weighs more than 2 pounds.
Sunday, May 20, 2007 6:43 am
When he first started out, artist Patrick Coffaro wouldn't think of using bright colors. "I did a lot of nature," he said. "Weeds. Thistles. Stuff like that. Basically, it was all earth tones."

MASTER COLORIST: Artist Patrick Coffaro, of Mesa, shows in the Joan Cawley Gallery in Scottsdale.
Monday, March 20, 2006 5:53 am
Cynthia "CJ" Rider has sketched pencil drawings of cactuses, whipped up elaborate oil paintings of scenic mountain ranges, and created whimsical patterns on fiberglass horses.

Cynthia Rider paints in her Mesa house.
Monday, May 10, 2004 10:26 am
Barbara Samanich's illustrations are best described by the same words that have been used to describe children's fairy tales: Whimsical, playful, imaginative, fun. The colors are always bright and the subjects expressive. Images busy, yet at the same time, gentle.

Illustrator Barbara Samanich plans to convert the Airstream trailer in her backyard into a studio.
Tuesday, January 29, 2013 3:30 pm

Artist Ryan Dempsey, who is only 10-years-old, explains his love of painting.
Wednesday, January 23, 2013 3:55 pm
Naming herself after the provincial flower of Alberta, Canada, Loca Rosa is a performer with international flair.
Wednesday, March 28, 2012 1:14 pm
Chandler Centennial organizers are extending the application deadline for vendors and artists who want to participate in the May events that will celebrate the city's 100th birthday.