Cole Richardson scans Liberty High School's defense before taking the snap. Thursday, November 10, 2011. [Dave Martinez/Daily News-Sun]

Arcadia quarterback Cole Richardson hands the ball of to his fullback Sosaia Maagu during Thursday night's visit to Liberty High School for AIA conference title play. Thursday, November 10, 2011. [Dave Martinez/Daily News-Sun]

Paul Panaccione escapes the grasp of Payson Kendle during AIA tournament play on Thursday night. Thursday, November 10, 2011. [Dave Martinez/Daily News-Sun]

Paul Panaccione escapes the grasp of Payson Kendle during AIA tournament play on Thursday night. Thursday, November 10, 2011. [Dave Martinez/Daily News-Sun]
Friday, November 10, 2006 2:47 am
Outlook: These two squads meet in the playoffs for the second consecutive year, under similar circumstances.
Friday, November 3, 2006 2:17 am
Outlook: Coronado fell just short in an upset bid of fifth-ranked Higley last week, but still sits at No. 14 in the power rankings, despite a sub-.500 record, because of its strength of schedule.
Friday, October 27, 2006 3:21 am
Outlook: The brutal schedule keeps getting worse for Tempe.
Friday, October 13, 2006 3:00 am
Outlook: This is the marquee matchup tonight in the 4A-II East Sky Region, which seems to have a great game every week.
Friday, September 29, 2006 3:50 am
Outlook: After three weeks of prepping, Arcadia is facing its second big test of the season tonight.
Thursday, September 21, 2006 12:27 am
Outlook: Things are starting to sound the same week to week for Arcadia. The Titans handily beat an opponent and coach Jim Bevell isn't happy.
Friday, October 28, 2005 12:10 am
Address: 1730 S. Mill Ave., Tempe; Records: Arcadia 8-0, 3-0 East Sky Region; Tempe 2-6, 1-2; Gametime: 7:00 p.m.
Friday, November 4, 2005 2:05 am
Address: 2501 N. 74th St., Scottsdale; Records: Arcadia 9-0, 4-0 East Sky Region; Coronado 2-7, 0-4; Gametime: 7:00 p.m.
Friday, November 18, 2005 1:08 am
Address: 4703 E. Indian School Road, Phoenix; Records: Glendale 7-4; Arcadia 11-0; Gametime: 7:00 p.m.

Arcadia volleyball outside hitter Melissa Toth.
Monday, October 8, 2007 11:00 pm
After her first match of the season, Phoenix Arcadia junior Melissa Toth found herself in an unexpected spot.
Friday, November 17, 2006 9:04 pm
The Phoenix Arcadia High football team tried everything.

Apache Junction senior John Taylor runs ahead of Arcadia to score the first touchdown of the game Friday evening in Phoenix.
Tuesday, January 25, 2005 10:51 am
Saturday, September 29, 2012 12:32 am
Looking to celebrate homecoming with a key victory against a division foe, Arcadia instead found itself on the receiving end of a 35-7 rout at the hands of Maricopa on Friday night.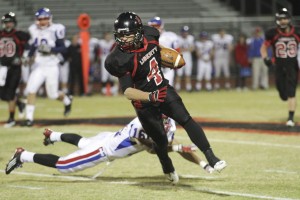 High school football game action from Thursday, Nov. 10, 2011 in the quarterfinal state championships.
Wednesday, August 17, 2011 5:09 pm
Tuesday, February 1, 2011 9:59 pm
Jordan Baker and Larry Lewis both played well  in a matchup between two of the best guards in Arizona on Tuesday night.
Wednesday, September 1, 2010 11:49 am
Saturday, October 31, 2009 10:49 pm
It was hard to miss the Phoenix Arcadia girls team's dominance at the 4A state swim championships on Saturday, with one race in particular standing out.