The Apple EarPods are shown during a product review in San Francisco, Wednesday, Sept. 12, 2012. (AP Photo/Jeff Chiu)

FILE-In this Thursday, June 24, 2010 file photo, Piotr Kubiak of Oakland, Ill., shows off his new iPhone 4, right, next to his old iPhone outside of an Apple store, in Chicago. Millions of people will likely buy new iPhones after Apple's expected announcement of a new model on Wednesday, Sept. 12, 2012. The new phones would join some 244 million iPhones already sold since the first one launched in 2007. Some have been lost, some stolen and some are still in use. But it's fair to say that millions of iPhones are languishing in desk drawers or gathering dust. (AP Photo/Kiichiro Sato, File)

This product image provided by Apple Inc., shows the new Apple iPhone 4. (AP Photo/Apple Inc.) ** NO SALES **

This product image provided by Apple Inc., shows the new Apple iPhone 4. (AP Photo/Apple Inc.) ** NO SALES **
Monday, November 12, 2012 1:51 pm
Reports claiming Apple is already working on the iPhone 5s are circling the internet Monday.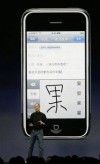 Apple Inc. CEO Steve Jobs announces a number of new languages that the updated Apple iPhone will work with during his keynote speech at the Apple Worldwide Developers Conference in San Francisco, Monday, June 9, 2008. Jobs announced innovations to the Mac OS X Leopard operating system and a long-awaited update to the iPhone.
Thursday, March 6, 2008 12:28 pm
CUPERTINO, Calif. - Apple Inc. is tweaking the iPhone to work better with business e-mail, an expected move that is meant to address a key weakness in the popular consumer device.
Tuesday, December 18, 2007 10:01 pm
SAN FRANCISCO - Apple Inc. is negotiating with Japan's top mobile phone carrier to launch the iPhone in Japan, though the cut of subscriber revenue that Apple wants has been a sticking point, according to a report published Tuesday.

BIG IN JAPAN?: Apple CEO Steve Jobs speaks at the Apple World Wide Developers Conference in San Francisco.
Thursday, August 2, 2007 2:27 am
SAN JOSE, CALIF. - Apple has issued a software patch to fix some security holes that independent security researchers recently discovered for the company's vaunted iPhone.
Wednesday, January 10, 2007 1:17 am
SAN FRANCISCO - First there was iPod, now there's iPhone. The next phase of Apple's plan to reinvent itself as a consumer electronics company was unveiled Tuesday by Apple CEO Steve Jobs, and it received a warm reception from Wall Street.

In this undated photo provided by Apple, Apple\'s new iPhone is shown that was introduced by Apple CEO Steve Jobs during keynote address at MacWorld Conference & Expo in San Francisco, Tuesday.

Instagram is demonstrated on an iPhone Monday, April 9, 2012, in New York. Since Verizon Wireless broke AT&T's exclusive grip on the iPhone last year, several other phone carriers now offer Apple's popular smartphone. On Monday, T-Mobile said it will make a stronger bid for used iPhones from AT&T as Apple prepares to launch a new version. (AP Photo/Karly Domb Sadof)
Wednesday, September 12, 2012 10:50 am
SAN FRANCISCO - Apple has unveiled the new iPhone 5 at a conference Wednesday morning in San Francisco.
Saturday, September 8, 2012 6:45 pm
Anticipation is building for the new "iPhone 5," which is expected to be announced Sept. 12, amid signs it could be the biggest-selling mobile phone Apple's ever introduced.
Monday, June 8, 2009 12:22 pm
Monday, July 14, 2008 10:22 am
NEW YORK - Apple Inc. said Monday it has sold 1 million iPhones in the three days following the release of the latest model on Friday.
Friday, July 11, 2008 2:37 pm
NEW YORK - The launch of Apple Inc.'s much-anticipated new iPhone turned into an information-technology meltdown on Friday, as customers were unable to get their phones working.
Monday, June 9, 2008 10:52 pm
SAN FRANCISCO - The iPhone will soon be $200 cheaper and support satellite navigation and faster Internet access, but higher monthly service charges are likely to erase most of the savings.
Monday, June 9, 2008 12:43 pm
SAN FRANCISCO - Apple Inc. unveiled an upgraded iPhone Monday with a faster Internet connection and GPS capabilities - and priced $200 lower than current models.
Wednesday, May 7, 2008 9:56 pm
SAN FRANCISCO - In another step in the worldwide march of Apple's iPhone, the top mobile phone operator in Latin America said Wednesday that it has reached a deal to bring the multimedia gadget to more than a dozen countries starting later this year.