This product image provided by Apple Inc., shows the new Apple iPhone 4. (AP Photo/Apple Inc.) ** NO SALES **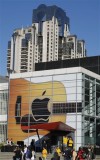 An Apple poster is seen on a building before Apple Inc. makes an announcement, Wednesday, Sept. 1, 2010, in downtown San Francisco. (AP Photo/Paul Sakuma)

An Apple iPhone customer holds the AT&T, left, and Verizon Apple iPhones at an Apple store in Palo Alto, Calif., Tuesday, April 19, 2011. Apple Inc. reports quarterly financial earnings Wednesday, April 20, after the market close.(AP Photo/Paul Sakuma)

This product image provided by Apple Inc., shows the new Apple iPhone 4. (AP Photo/Apple Inc.) ** NO SALES **
Wednesday, June 29, 2005 11:42 am
SAN FRANCISCO - Apple Computer Inc. released new software Tuesday designed to make it easier for users to listen to the increasingly popular, but largely unstructured podcast offerings.
Monday, February 5, 2007 9:34 am
CUPERTINO, Calif. - IPod maker Apple and the guardian of The Beatles' music resolved their long-simmering dispute on Monday about who has the right to the Apple trademark.
Tuesday, October 16, 2007 10:09 am
SAN JOSE, Calif. - Apple Inc.'s next-generation operating system, Mac OS X "Leopard," will be available Oct. 26 for $129, and Apple's online store is taking pre-orders, the company said Tuesday.
Friday, December 17, 2004 11:09 am
Thursday, June 29, 2006 3:52 pm
SAN FRANCISCO - Apple Computer Inc. on Thursday joined the crowd of Silicon Valley companies to acknowledge some stock options awarded to employees might have been mishandled - a problem that threatens to raise questions about the accuracy of past financial statements.
Monday, June 6, 2005 6:28 am
SAN FRANCISCO - After years of touting its Macintosh computers as superior alternatives, Apple Computer Inc. said Monday that it would switch to the very Intel microprocessors that power machines designed to run Microsoft Windows.
Wednesday, September 1, 2004 2:22 pm

Apple Computer Inc. salesman Brian Tong holds a new Apple iPod Nano at the Apple Computer Store in Palo Alto, Calif., Sept. 9.
Monday, October 22, 2007 2:41 pm
SAN JOSE, Calif. - Apple Inc.'s fiscal fourth-quarter profits jumped 67 percent and easily beat Wall Street expectations, capping a record-breaking year that saw unprecedented momentum in its Mac business, ceaseless consumer interest in its iPod players and a successful introduction of its newest endeavor, the iPhone.
Tuesday, August 21, 2007 4:28 pm
SEATTLE - Viacom Inc.'s MTV Networks and digital media company RealNetworks announced Tuesday a digital music joint venture that will compete with Apple's dominant trinity of the iTunes store, iPod player and iPhone.
Tuesday, May 4, 2010 10:47 am
WASHINGTON - Federal regulators plan to examine whether Apple Inc. is violating antitrust rules by requiring software developers to use Apple programming tools to create applications for the iPhone and iPad.
Thursday, March 6, 2008 12:28 pm
CUPERTINO, Calif. - Apple Inc. is tweaking the iPhone to work better with business e-mail, an expected move that is meant to address a key weakness in the popular consumer device.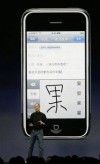 Apple Inc. CEO Steve Jobs announces a number of new languages that the updated Apple iPhone will work with during his keynote speech at the Apple Worldwide Developers Conference in San Francisco, Monday, June 9, 2008. Jobs announced innovations to the Mac OS X Leopard operating system and a long-awaited update to the iPhone.
Tuesday, October 23, 2012 11:35 am
SAN JOSE, Calif. — Apple Inc. on Tuesday revealed a smaller version of its hit iPad tablet computer that will start at $329 and comes with a screen that's about two-thirds the size of the full-size model.
Wednesday, January 10, 2007 1:17 am
SAN FRANCISCO - First there was iPod, now there's iPhone. The next phase of Apple's plan to reinvent itself as a consumer electronics company was unveiled Tuesday by Apple CEO Steve Jobs, and it received a warm reception from Wall Street.
Tuesday, February 24, 2004 5:31 am
DETROIT -Rapper Eminem's music publisher is suing Apple Computer Inc., claiming the company used one of the hip-hop superstar's songs in a television advertisement without permission.
Saturday, March 10, 2012 2:00 pm
SAN FRANCISCO — Apple gave the new iPad a bunch of new features but no new name.
Friday, February 17, 2006 5:40 am
SAN JOSE, Calif. - Apple Computer Inc. has resorted to a poetic broadside in the inevitable cat-and-mouse game between hackers and high-tech companies.
Tuesday, January 9, 2007 11:23 am
SAN FRANCISCO - Apple Computer CEO Steve Jobs on Tuesday made the company's long-awaited jump into the mobile phone business, unveiling a gadget that's controlled by touch, plays music, surfs the Internet and runs the Macintosh computer operating system.
Wednesday, February 23, 2005 11:09 am
Tuesday, December 6, 2005 10:02 am
SAN JOSE, Calif. - NBC Universal has approved a deal with Apple Computer Inc. to become the latest network to sell television shows a la carte on Apple's online iTunes store, the companies said Tuesday.