Real-life Arizona Cowboy Rex Allen becomes the movies new cowboy star as Republic Studio's president Herbert J. Yates announces a $5,000,000 five year contract to establish Allen as a top Western screen hero, with the "Arizona Cowboy's" as his first starring picture. Photo is a Republic Studios handout Feb. 17, 1950. (AP Photo)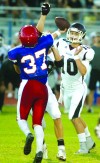 Desert Mountain quarterback Kyle Allen prepares to throw downfield while taking on Mountain View, Friday, August 24, 2012 in Mesa.

Desert Mountain's Kyle Allen escapes pressure from Chaparral's Nathan Sills in September 2011.

Brophy's Devon Allen is a receiver on the football team and a nationally-ranked hurdler and sprinter.

Brophy's Devon Allen runs the ball against Brophy during the third quarter in Phoenix, Friday, Oct. 28, 2011. Allen had 900 yards receiving and 14 touchdowns for the Broncos in 2011.

This film image released by Sony Pictures Classics shows director Woody Allen, standing left, talking with the cast during the filming of "To Rome With Love." "To Rome With Love" is Woody Allen's 45th film, a total the 76-year-old director has amassed by making, with remarkable consistency, a film a year.

Brophy's Devon Allen (No. 13) scored 14 touchdowns and caught nearly 900 yards in passes during the fall. He's also a multi-state champion in sprints and hurdles during the track season in spring, with Olympic competition aspirations.
Brophy sprinter/hurdler/football standout Devon Allen, shown April 12, 2012 in Phoenix.
Brophy hurdler Devon Allen, shown Thursday, April 12, 2012 in Phoenix. [Tim Hacker/ Tribune]
Brophy hurdler Devon Allen, shown Thursday, April 12, 2012 in Phoenix. [Tim Hacker/ Tribune]
Brophy junior Devon Allen has quickly ascended to the top of the all-time charts in Arizona track history in both the 110-meter high hurdles and the 300-meter hurdles. He is one of the best hurdlers in the nation, but is also a Division I college prospect at wide receiver.
Brophy hurdler Devon Allen, shown Thursday, April 12, 2012 in Phoenix. [Tim Hacker/ Tribune]

Sen. Sylvia Allen, R-Snowflake, is sponsoring legislation that would require city councils, county boards of supervisors, school boards and other official bodies to build in time during meetings for members of the public to voice their opinions on any issue.

Sen. Sylvia Allen, R-Snowflake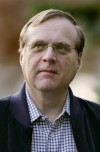 Microsoft co-founder Paul Allen
Monday, January 17, 2005 5:35 am
SEATTLE - Most kids discard dreams of becoming an astronaut as fast as they abandon childhood toys. But when the kid is Paul Allen, and he grows from geek with smudged eyeglasses to one of the richest men in the world, dreams can become reality.

FILE - This publicity film image released by Universal Pictures shows Hugh Jackman as Jean Valjean holding Isabelle Allen as Young Cosette in a scene from "Les Miserables." Best-picture prospects for Oscar Nominations on Thursday, Jan. 10, 2013, include, "Lincoln," directed by Steven Spielberg; "Zero Dark Thirty," directed by Kathryn Bigelow; "Les Miserables," directed by Tom Hooper; "Argo," directed by Ben Affleck; "Django Unchained," directed by Quentin Tarantino; and "Life of Pi," directed by Ang Lee. (AP Photo/Universal Pictures, Laurie Sparham, File)
Tuesday, June 26, 2012 12:00 pm
NEW YORK — On a sweltering Manhattan day, it's hard not to think of Woody Allen's old line about preferring air conditioning to the Pope.

Justin Allen Erickson
Monday, August 8, 2011 11:10 pm
As expected wrestler Derek Allen transferred to Desert Vista, Thunder coach David Gonzalez confirmed via text message.

Sen. Sylvia Allen, R-Snowflake, explains Monday why she would not support a change in law to extend jobless benefits for those who have been out of work more than 79 weeks.