Saturday, September 27, 2008 2:03 pm

 If you concede that an engine is really an air pump, then all things being equal if you can put more air (and thus more fuel) through an engine, you'll get more power.

Nate Beeler, The Washington Examiner
Friday, April 13, 2012 3:14 pm
Carrington College Mesa, 1001 W. Southern Ave., Suite 130, will host "Paw it Forward" noon to 5 p.m. April 24. Complimentary veterinary services will be offered, as well as instruction in pet first aid. Pet owners will also learn proactive health measures for their animals. For a full list of services or to schedule your pet's appointment, call (480) 212-1600.
Friday, September 23, 2011 8:00 am
Has your dog ever had a seizure? A pet suffer from heat stress? A cat come home with battle wounds from an alley fight?
Sunday, May 29, 2011 8:00 am
We usually reserve this space for a volunteer opportunity in the East Valley. But sometimes, there are people and places beyond metropolitan Phoenix that could use our help too.
Friday, March 4, 2011 8:00 am
Federal funding is available to assist about 1,600 eligible homeowners in improving the energy efficiency of their homes. Eligible low- to moderate-income Maricopa County homeowners are encouraged to participate in the County's Weatherization Assistance Program.
Tuesday, March 1, 2011 1:32 pm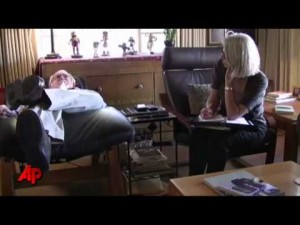 Seven weeks after a gunman opened fire during Congresswoman Giffords' meet-and-greet in Tucson, Arizona, Ron Barber, a shooting survivor, opens up about the physical and emotional road to recovery. (March 1)
Saturday, February 9, 2008 4:33 am
The desert brown will soon be blanketed in vibrant colors as the wildflowers begin to bloom.
Wednesday, December 5, 2007 11:44 pm
Give up your morning coffee for a few days, help protect genocide victims.

HELPING OUT: Arcadia High school STAND sponsor Heather Demmons, left, with club officers, senior Rebecca Miller, 17; senior Melissa Barber, 17; senior Georgia Barnett, 17, and junior Sadie Smeck, 16, show money collected so far thi
Friday, September 7, 2007 12:12 am
Dorothy Wehrle said she felt as if she were trapped in her Gilbert home.

Gina Bennington, a volunteer with About Care, visits with homebound residents Dolly and Ralph Peterson in thier Gilbert home Friday afternoon.
Friday, August 17, 2007 2:05 am
When Dana Ehli first met her charge, she was known simply as Irene Balint. Now, she goes by "Grandma Irene."

HELPING HAND: Volunteer Dana Ehli, right, helps Mesa resident Irene Balint while shopping in Mesa.
Thursday, March 29, 2007 10:45 pm
LAS VEGAS - Michael Jackson is "a little bit under the weather," but has not sought hospital treatment, his spokeswoman said Thursday. "He is not in the hospital and he has not been in the hospital," Raymone K. Bain said, denying news reports that Jackson was hospitalized for pneumonia.

Michael Jackson delivers his speech to fans during an event \"Fan Appreciation Day\" in Tokyo Friday, March 9, 2007.
Sunday, February 25, 2007 4:46 am
In the arts world, Alan Brown is known as the guy who gets called in when organizations are flailing. "They call me saying, 'Our ticket sales are down. We don't know what to do — we need to do a survey,'" he said. "Well, by then, it's too late."
Monday, January 29, 2007 1:15 am
Anyone who has fumbled for keys in the dark to open their home or car door may appreciate a new product developed by a Scottsdale company. January Innovations plans to introduce a miniature light that attaches to keys, or other objects a person might use in dark places.