Why do we hold parades?
It's simple, really. Parades are opportunities for communities to come together in a shared spirit of celebration, commemoration and unity.
The East Valley Veterans Parade has been celebrating the lives and sacrifices of veterans, active military and their families under one name or another for more than 50 years. Originally called the Mesa Veterans Parade, it is a tradition that began under the auspices of the city of Mesa.
But in 2006, the parade fell victim to budget cuts. Residents Gerry Walker and Frank "Gunny" Alger sounded the call to keep the annual event marching through Mesa, even if it included only just the two of them.
The Marine Corps League (Saguaro Chapter) in Mesa took the lead and the Mesa Veterans Parade Association was formed as an all-volunteer organization. The parade was renamed in 2013 as the East Valley Veterans Parade to reflect the participation of parade entrants, sponsors and attendees from throughout the East Valley.
This year's parade, which takes place at 11 a.m. Saturday, Nov. 11, in downtown Mesa is expected to be a spirited celebration at which citizens can gather to "Honor and Remember" all our area residents who have served on their behalf. It's a once-a-year chance to personally say, "Thank you. We appreciate your service. We haven't forgotten your sacrifices."
More than 2,000 people will march or ride in this year's parade – in cars, military vehicles, floats, motorcycles and on horseback. They'll play rousing music as part of area high school marching bands, with flags waving. They'll sing. They'll wave. There will be flyovers and somber tributes to those fallen in service.
And there will be red, white and blue splashed everywhere, reminding all of us of our shared identity as Americans. And some will shed a few tears, as they proudly salute 40,000-plus spectators, who are as important as the parade entries themselves. After all, what is a parade without spectators?
The East Valley Veterans Parade will be held on Veterans Day, Nov. 11, and starts at 11 a.m. in commemoration of Armistice Day, the day World War I ended. It will last approximately 90 minutes.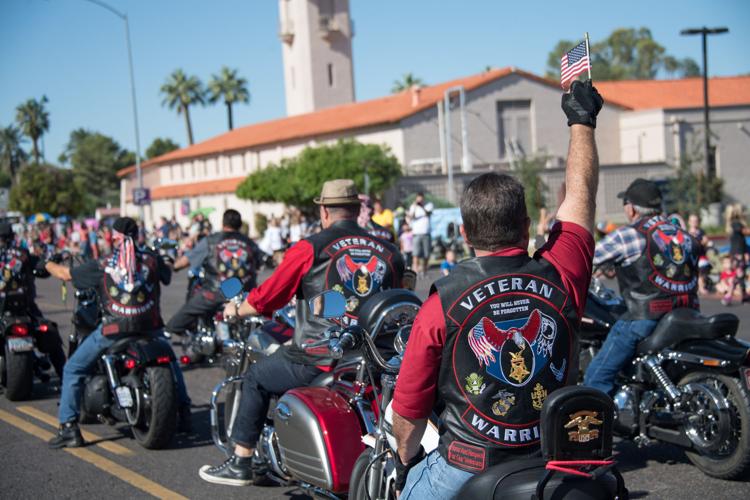 The parade route starts on Center Street and University Drive in Mesa and runs south on Center Street to First Street. It then turns west onto First Street and continues to Robson. Any location along the route offers great viewing. Bleachers are located on the west side of Center Street on Second Street, across from the Mesa Convention Center entrance, and on First Street at Macdonald on the south side of the street across from the grandstand. Attendance is free.
The East Valley Veterans Parade is supported by the East Valley Tribune, Downtown Mesa Association, 960 The Patriot, Signarama Chandler, Mesa Community College, Albertsons-Safeway, SRP, Mesa Hohokams, Visit Mesa, Arizona Department of Veterans' Services, Berge Ford, Phoenix-Mesa Gateway Airport, Boeing, Gateway Bank and the Berg Family.
For more parade information, visit evvp.org.