Perseverance is legacy of conjoined E.V. twins
Bailey twins
Conjoined twins Taylor, left, and Emma Bailey
Conjoined twins could make medical history
CHALLENGE AHEAD: Mandy Bailey helps her conjoined twins, Taylor and Emma, brush their teeth Wednesday in their San Tan Valley home. The girls, who share a heart and liver, will have to be surgically separated to survive in the long term.
Bailey twins
Mandy Bailey plays with her conjoined twin daughters Taylor and Emma in their San Tan Valley home Wednesday, Jan. 13, 2010. The three-year-old twins share a heart and a liver and have started preliminary surgeries before they can officially be put on the transplant list. Multiple fundraisers are scheduled next month.
Bailey twins
Conjoined twins Emma, left, and Taylor, 2, stand with the help of their mother Mandy Bailey in their Queen Creek home. The twins share an oversized, seven-chambered heart and are attached at the sternum.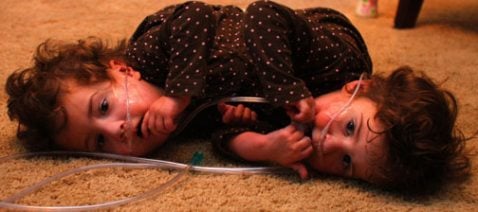 Conjoined twins face heart separation