Three culinary roads – Swedish, Polish and Canadian – meet at Beaver Choice in Mesa, and if you're searching for great ethnic food, take whatever highway, avenue, road or trail you can to get there.
Hanna and Marek Kowalski's family restaurant at Baseline and Extension roads honors Canada's national animal, noted for its pluck and persistence, and their inspired strip center business exudes that spirit and serves food that has won consumer kudos and high fives from food critics. 
Here you can enjoy Svenska Köttbullar – Swedish meatballs with cardamom, cream sauce and lingonberry preserves; schnitzel cordon bleu, a pork cutlet stuffed with ham and French Brie and topped with mushroom sauce; and Quebec poutine, a plate of French fries with cheese curds and hot beef gravy.
"Our students at Queens University used to tell us that the poutine sliders we offered there slid right down into their bellies," says Hanna, recalling her years in Kingston, Ontario, about midway between Toronto and Montreal. 
In 2002, she and Marek rolled out Freja H & M, the first gourmet food truck in North America, winning a prize for best business concept, she said. In Kingston, the couple came up with the eventual name for the Valley restaurant: "We wanted to have something both Swedish and Canadian, so we chose 'beaver' for Canada's national animal and put a Swedish hockey jersey on it with that country's signature three crowns.
Born in Poznan, Poland, Hanna left for Stockholm in 1982, her home for the next 18 years. She was studying math at Stockholm University and saw an ad for a server job at the Stadshuset – Stockholm's famous city hall, where the Nobel Prize banquet is held annually.
She went in three hours earlier than necessary to learn from the chef, who cooks for King Carl XVI Gustaf as well for the Nobel laureates. She learned the basics of preparation and presentation from "Chef Johnny" – slicing, cubing, dicing and plating – as well as about combining multi-textures and tastes. 
"That's how I discovered my passion for cooking and that I was capable of making fancy food and serving it to the table or catering," she said.
Next stop was Vienna, where she lived from 2000 to 2002, learning its culture and great food traditions. She came to Canada in 2002, first to Toronto, where she learned about food trucks and then on to Kingston for three years.
"Toronto is wonderful, but it is very hard to establish a new food truck there," she said. "Individual spots are licensed by the city, and being such a big city and a great food city, it's difficult to get started there."
In 2010, she and Marek moved to the Valley and founded the original Beaver Choice, a four-table restaurant in Tempe. To serve more people, they opened the Mesa location four years ago in the space previously home to Ripe Tomatoes. The couple, now living in Chandler, have been married 16 years. She has two sons, Chris, who is studying computer science at Mesa Community College, and Adam, who is in the Canadian Navy out of Vancouver, British Columbia.
Hanna lives in the United States on an investor visa, which required her to capitalize a business and hire American workers. The restaurant employs from five to 11 depending on season.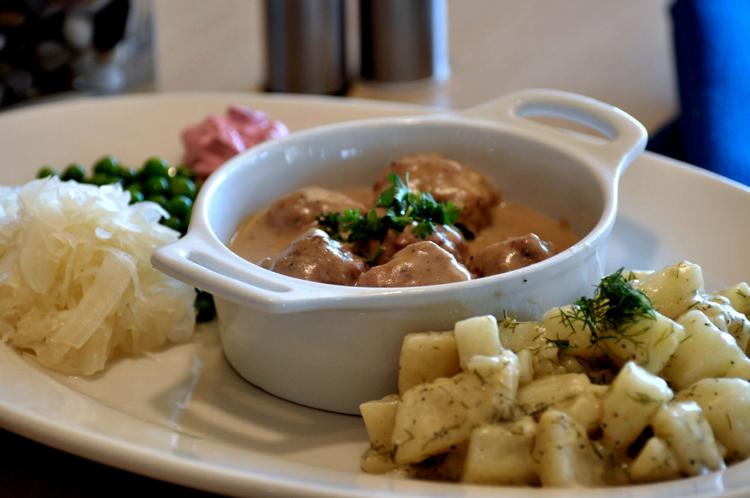 Beaver Choice has made newspapers and television with its famous dishes.
First are the pierogi, the national dish of Poland: dumplings filled with a choice of sautéed bacon, porcini mushrooms or sour cream. Hanna and Marek recently bought a pierogi maker from Poland. "It pops 4,500 pierogis per hour," she says proudly. 
Every Thursday, Beaver Choice offers an all-you-can-eat pierogi, soup and salad buffet, and you can take home frozen pierogi by the dozen.
"They are awesome," she explained. "The secret to good pierogis is the casing. It took me three months, night in and night out, to adjust the recipes to achieve ours, a mixture of three imported flours. 
"They melt in your mouth, and we use real potatoes, not potato flakes like most of the frozen disasters you find in grocery stores," she added. She notes that she discovered Arizonans' love for pierogi when her employees wanted to eat them all the time. 
Hanna particularly loves scallops, and the Beaver Choice versions are maple glazed and seared and served with Brussels sprouts, kale chiffonade, oyster mushrooms, seared potato dumplings and beurre blanc. 
"I experimented for over a year to nail my recipe. My scallops are fabulous," she said. 
Skomakarlåda (Shoemaker Box) is a traditional Swedish dish centered by a slice of pork loin served with gravy and mashed potatoes and garnished with diced bacon, mushrooms and chopped leeks. 
Why is it called that? "It looks like a shoemaker's box, if it's served right," she says with a smile. 
"I am really a down-to-earth person," Hanna said. "I don't like fancy restaurants and their 'creations.' All this 'vertical food' makes me just laugh, and the same goes with those spots of sauces around on the plate. It's so unnatural and silly. Food is food and should fill the plate with a lot of sauce on side or on top. That's exactly what a Shoemaker Box is." 
The elk stew (Älgskavsgryta) "is so good and so unique and so Scandinavian," she said. "Everything in it comes from the farm and from the forest: the elk, the juniper berries, the mushrooms, the cream. Only the wine is of foreign origin."
And, of course, there's schnitzel, sauerkraut, gravlax and many other salmon dishes, and in the international spirit, you can have your chicken prepared piccata, Vladimir or even in Scandinavian rhubarb style.
For dessert, the Beaver Supreme is the star: chocolate meringue with walnuts, mandarin oranges and whipped cream.
Hanna and Marek would like to open two or more places in a fast-casual concept, one for sure in Gilbert. As with Beaver Choice, the European model of preparation will be used: "Everything is made from scratch. We even make our own sauerkraut. I promise you," she says, with typical candor, "you never had sauerkraut like ours." 
Lunch is served Thursday through Saturday, and dinner is served Tuesday through Saturday.