The weekend of July 29-30 turns out to be a big one for eating. On July 29, many people celebrate National Chicken Wing Day. For dessert, National Cheesecake Day falls on July 30.
You don't see that combination of flavorful favorites together very often. However, if you want to indulge in one, or both, we know some spots in the East Valley hungry people should visit.
Actually, our readers voted for most of these eateries in the East Valley Tribune's annual Best of Mesa and Best of Gilbert publications. If you want to keep making your voice heard, voting for Best of Chandler starts on August 7 at eastvalleytribune.com.
Chicken Wings
A quintessential part of any sports-watching experience, chicken wings are a messy finger food that can range from sweet to burn-your-mouth hot.
Buffalo Wild Wings
With "wings" in the name, you would expect Buffalo Wild Wings to offer something special, and you'd be right. Choose from 16 signature sauces and five seasonings to build your perfect wing flavor. You can also choose traditional wings or white-meat boneless wings. Enjoy them at the restaurant with domestic, import or craft beer and various sides, or buy buckets of wings to eat at home.
Locations:
Chandler: 3163 W. Chandler Blvd., Ste V120
Gilbert: 970 S. Gilbert Road
Mesa: 6560 E. Superstition Springs Blvd.
Tempe: 705 S. Rural Road, Suite 104
Phone:
Chandler: 480-289-5200
Gilbert: 480-632-9464,
Mesa: 480-214-9464,
Tempe: 480-858-9464
Website: buffalowildwings.com
Native Grill & Wings
This wing-focused establishment offers 21 flavors, from basic honey BBQ to mouth-melting ghost pepper. You can also choose from traditional wings, boneless wings or Native Style Strippers (chicken strips). Eat the wings alone or as a combo with salad and pizza. As a bonus, Native Grill & Wings also serves New York cheesecake.
Locations: Ten locations in Chandler, Gilbert, Mesa, Tempe and Ahwatukee
Website: nativegrillandwings.com
Teakwoods Tavern & Grill
A full-range grill, Teakwoods still lists wings prominently on its menu. While it offers only eight basic flavors, the specialty flavors include some unusual mixes and additions, including prickly pear cactus. It offers three types of wings: traditional, boneless and tenders. If you don't want to interrupt binge watching to go out to, Teakwoods does deliver to Chandler and Gilbert through Grubhub.
Locations:
Chandler: 5965 W. Ray Road
Gilbert: 151 E. Williams Field Road
Phone:
Chandler: 480-961-0945
Gilbert: 480-899-8325
Website: teakwoodstavern.com
The Hub Grill and Bar
Voted by readers as the best wings in Mesa, the Hub offers a respectable 12 flavors, including the unique raspberry chipotle. In addition to traditional and boneless wings, you can order Arizona smoked style. Thirsty? Wash down your wings with a selection of more than 90 craft and draft beers.
Locations:
1860 S. Stapley, Mesa
1925 S. Sossaman, Mesa
Phone:
Stapley: 480-494-2699
Sossaman: 480-718-5440
Website: hubgrill.com
Cheesecake
Silky, sweet and cheesy, cheesecake makes the perfect base for a range of gastronomic delights. Include fresh fruit, chocolate, peanut butter or any other ingredient or flavor you wish to make a delicious dessert.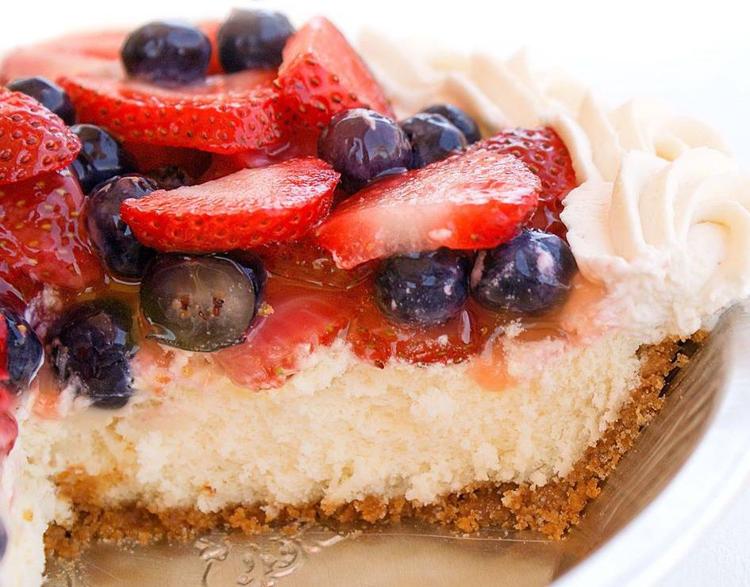 The Cheesecake Factory
Yes, it's an obvious choice, but you can't ignore the selection of more than 30 types of cheesecake. Whether you want something sweet, tart, sour, extra chocolate or classic, you can find it. For National Cheesecake Day, The Cheesecake Factory offers two perks. First, take advantage of the "Any Slice, Half Price" deal on July 30-31. Second, a new celebration cheesecake will be on the menu starting July 30. It layers strawberry, chocolate, and vanilla mousse cheesecake, and vanilla cake under a cream cheese icing.
Locations:
Chandler: 3111 W. Chandler Blvd.
Mesa: 6613 E. Southern Ave.
Phone:
Chandler: 480-792-1300
Mesa: 480-641-7300
Website: thecheesecakefactory.com
Kneaders Bakery & Cafe
This well-loved spot for fresh baked goods offers two styles of cheesecake. The fresh berry cheesecake loads a vanilla cheesecake with raspberry filling and tops it with whole strawberries and whipped cream. Or you can opt for the turtle cheesecake with caramel, pecans and chocolate on a cookie base. You can also order online for delivery.
Locations: Eight locations in Chandler, Gilbert, Mesa, Queen Creek, Tempe and Ahwatukee
Website: kneaders.com
Piefection
As the name suggests, Piefection focuses on pies and pie-shaped desserts. It carries a range of cheesecakes, including flavors like cherry, triple berry, blueberry, lemon and fresh strawberry. Also, the Pie of the Month is a special berry lemonade cheesecake, which features fresh strawberries and blueberries in a lemon glaze with real whipped cream.
Location: 6731 E. Brown Road, Suite 104, Mesa
Phone: 480-218-7437
Website: piefectionaz.com
Local grocery stores
Ask many people their favorite place for cheesecake and they'll name the bakery section of their local AJ's, Basha's, Fry's or Safeway. The selections might learn toward basic – although sometimes they'll surprise you – but for cost and convenience, you won't do much better. ken wings and cheesecake in the East Valley.