Students in the East Valley are strumming guitars, belting out festive tunes on trumpets and singing passionate melodies in mariachi ensembles to celebrate Mexican culture.
But the culture isn't limited to those of Mexican-American heritage. People of all backgrounds are enjoying learning playing lively songs.
Mariachi songs have different themes including love, loss and, patriotism. The culture is attracting children, teens and adult students alike to classes and performances in Mesa, Chandler and Tempe.
Students say learning to sing in Spanish, bow a violin and pluck the strings of a guitarron – a guitar-like acoustic bass instrument – are ways to honor and learn more about the culture.
Several teenagers wearing mariachi trajes – uniforms of long black skirts and pants and vests bearing silver horse designs – played violins, guitar and guitarron at a ribbon-cutting and open house Feb. 4 at the non-profit Desert Sounds Performing Arts on West 1st Street in Mesa. Audience members standing outside on the grass in front of the building beamed as two little girls dressed in trajes held hands and sang a song in Spanish.
The students are part of Mariachi Sones del Desierto, which means Desert Sounds Mariachi. They were part of a celebration of the group moving to a new, larger office space. Desert Sounds helps students in need get instruments for school bands and orchestras.
"It's what I grew up listening to, mariachi and other Hispanic music," said Fatima Oliveros, 17, of Mesa, a violin player in the Desert Sounds group. "My parents kept encouraging me to do it.
"It's the gigantic ball of culture," the Dobson High School senior added.
Fatima's sister, Lupita, 12, plays violin. Her brother, Francisco, 15, plays guitarron in the ensemble.
"My dad plays guitar and he was once in a mariachi group with my mom," said Francisco, a sophomore at Dobson High School. "I just thought, why not?"
Julie Gilchrist of Gilbert is proud of her son, Troy Gilchrest, 16, who plays guitar in the Desert Sounds group.
Though mariachi music is not part of their heritage, Gilchrist said, "He's having a ball."
About 60 students in elementary, middle and high schools participate in Desert Sounds' mariachi ensemble, which began about five years ago, said mariachi program director Chris Donlon. He's also an orchestra teacher in Mesa Public Schools.
Most of them practice every Saturday at the Desert Sounds office in Mesa, while 11 students participate in the satellite mariachi program Friday afternoons at Hartford Sylvia Encinas Elementary School in Chandler.
Donlon and other music teachers share techniques for trumpet, violin, guitar, guitarron and vihuela, which is a small, guitar-like instrument with higher-pitched strings than a guitar. Students also get vocal training as all of them sing in the group. The teachers have trained in Las Vegas with professional group Mariachi Sol de Mexico.
"It's a combination of opera music, folk music, classically trained musicians that come together," Donlon said of mariachi bands. He fell in love with mariachi music when he heard a group from Tucson perform at a music educators' workshop several years ago, and called it "highly energetic."
Donlon has been a violinist and music teacher since 1993. He also teaches a before-school mariachi program for fifth- and sixth-graders at Bush Elementary School in Mesa as part of a school district offering. He's starting a before-school mariachi group at Bush for fourth-graders on Feb. 15.
Experts say it's hard to trace exactly when mariachi music started. Its roots are in Mexico, but this genre of music is performed around the world now.
The sound of the stringed instruments and mariachi's oldest rhythms stem from Mexico's colonial times, from 1519 to 1810, according to the website of Smithsonian Folkways Recordings, the nonprofit record label of the Smithsonian Institution.
The music called mariachi developed as early as the 1850s in ranches and small towns in western Mexico, the website said.
Hartford Sylvia Encinas Elementary School general music teacher Chris Nguyen heads the after-school mariachi Desert Sounds club with first through sixth-graders at Hartford. She's Vietnamese but loves learning about other cultures.
"I just love how there's so much variation," Nguyen said. "Each region of Mexico has their own twist to it."
Pedro and Melisa de la Rosa of Chandler said they wanted their daughters – Araceli, 8, and Analisa, 7 – to learn more about their Mexican heritage. The two girls sang a duet accompanied by the teen musicians at the Desert Sounds event.
Pedro de la Rosa said "there aren't a lot of programs like this."
"We feel like where we live, they're not really too exposed to our culture as much as she and I were," he added.
Jorge Rodriguez, 12, of Mesa, enjoys playing trumpet in the Desert Sounds group.
"My family is all Mexican and they wanted me to be in this group," Jorge said. "It just makes me happy."
Violinist Noely Simancas, 14, of Mesa, said she wanted to join the mariachi group after seeing a performance at a church.
"I grew up speaking Spanish so I can translate well," Noely said. "It's more of an extra activity that makes my mother proud."
Kaitlyn Smith, a 17-year-old senior at Highland High School in Gilbert, is Irish-American but joined a mariachi group in Las Vegas originally before moving to the Valley. She sang a solo and also played violin in the Desert Sounds performance and said she likes the "stories" in mariachi music.
"I love the style," Kaitlyn said. "It's beautiful."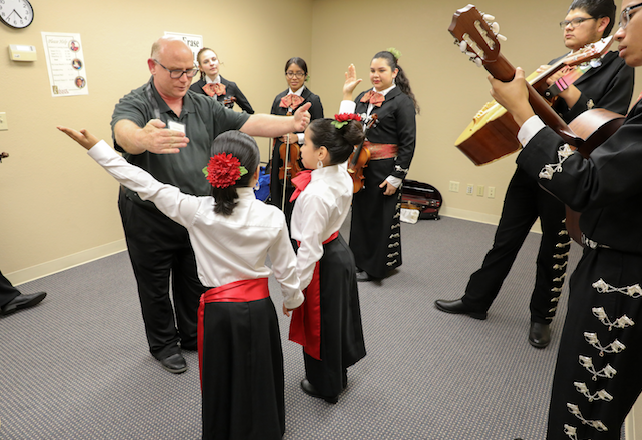 Tempe High School orchestra director and fine arts department chairwoman Jill Osborne also loves diving into other cultures. She heads the Mariachi de Tempe ensemble, a group of 17 students who meet during orchestra class.
The Tempe High group performs at school and community events including with Tempe Police officers. The high school ensemble includes students of Mexican-American, Cambodian, Chinese, African-American and Burmese backgrounds.
"One of the star singers speaks Burmese and English and now she sings in Spanish," Osborne said. "I love that.
"It's a beautiful music tradition."
Also in Tempe, Kyrene Middle School offers two mariachi classes, one for sixth-graders and one for seventh and eighth-graders. Altogether, they have more than 30 students. Sometimes, the mariachi students perform with a school orchestra, said Julio Contreras, Kyrene Middle School director of orchestras and mariachi.
"It's important because of the whole culture aspect," said Contreras, who was born in Mexico. "Some of these kids grew up listening to mariachi music, their parents listened to the music."
Contreras said most of the students in the sixth-grade mariachi ensemble are in the school's dual-language program. He added that the mariachi class complements their language skills as the mariachi groups sing songs in Spanish and English.
Mariachi music is also a passion for Michael Smith at Arizona State University. He's the faculty associate for the ASU Mariachi Ensemble, a night class with about 25 students, many of whom are of Mexican heritage.
Smith's mother is Mexican-American and he started playing violin in a mariachi group as a child in California.
"It's pride, it's emotion; mariachi music is life," he said. "It's a way to identify ourselves."
The ASU Mariachi Ensemble plays an end-of-year concert in April.
"With the current climate and everything that's been going on with immigration, we treat Hispanics with a negative attitude and that's so wrong," Smith said. "The music's great but the people are even better."
Students also learn about Mexican culture in the Mariachi Viva ensemble. About 15 students, mostly from Mesa, practice with instructors two nights a week at Carson Junior High School in Mesa, said Charlie Morales, director of Mariachi Viva, a non-profit organization.
"Some of our kids go on to play with professional groups," Morales said.
The Mariachi Viva group, made up of fifth to 12th graders, has performed at weddings, anniversary parties, quinceañeras, and at Mesa Arts Center's Dia de los Muertos Festival.
The group wants to raise enough money to attend the Tucson International Mariachi Conference in April. Anyone who wants to make a donation to help the students pay for the trip can visit gofundme.com/mariachiviva.