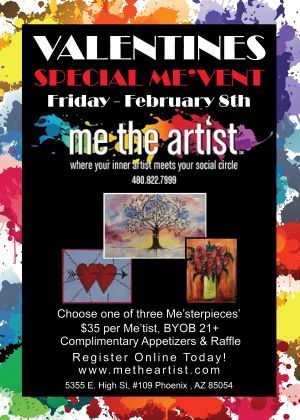 Valentines Special Evening
Friday, February 8th
Join us for the "Works of Heart" Me'vent!
The "Tree of Love" session caters specifically to Valentines and includes appetizers, raffle and painting class for $35.
Choose one of three Love Me'sterpieces!
Create a pair of complementary paintings to display in your home or give as a gift
 and bring a bottle of wine to the studio on
Friday, February 8
Doors Open at 5:30pm
Seating begins at 6:00pm
Painting begins at 6:30pm
2.5 hour session
cost
$35
details
Website: www.metheartist.com
venue information
Me The Artist (at CityNorth)
5355 E. High St, #109 Phoenix, AZ 85054
Event Contact
Contact Ruby Farias by
email
or by phone at 480-822-7999 for more information regarding the Works of Heart - Valentines Special Event.